French 'digital boiler' startup Qarnot has raised €35 million ($37.5m) in a new funding round.
The company this week announced it had closed a €35 million financing round with Société Générale Ventures, Demeter (Climate Infrastructure Fund), ADEME Investissement, Colam Impact, and La Banque des Territoires (on behalf of the French State).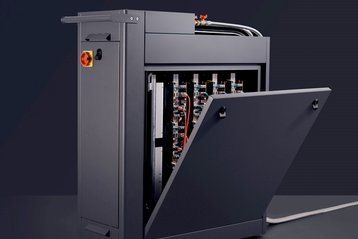 The company said the funding will allow Qarnot to "scale up", and will focus on expanding its teams with 50 new employees in 2023. The company currently has around 70 employees.
"Having these new investors on board with us is an insurance to massively deploy our technologies and achieve our industrial-scale development. Leading cloud actors focus their strategy on sourcing renewable energy, mostly intermittent. This is only a partial and unsustainable solution to answer the booming IT infrastructure needs. We are committed to proving that tech performance may be combined with environmental concerns and digital sovereignty." said Paul Benoit, CEO and co-founder of Qarnot.
Founded in 2010, Qarnot offers 'digital boilers' that heat water using waste heat from servers installed on-site. It sells compute to companies, and sells the resulting heat to energy customers or end-users. While it has previously targeted residential homes, the company is also focused on commercial buildings and the likes of apartment blocks. DCD profiled the company in November 2022.
In 2020, the company raised around $6.5 million, adding to the $2.5m it had received from Data4 Group a few years earlier. Previous investors include returning investors Société Générale and Banque des Territoires/Caisse des Dépôts as well as KTH Royal Institute of Technology and animation house Illumination (best known for the Minions franchise). Société Générale is also a customer, trialing using the system for risk computation.
According to the latest announcement, Qarnot has deployed 100 units of its digital boiler device, totaling around 70,000 high-performance computing cores, at around 25 sites in France and Finland.
The company also aims to install several data centers in France and in Europe with its QBx computing unit, with power ranging from 'hundreds of kW to a few MW'. The QBx system – which uses OCP-based refurbished hardware from ITRenew – allows water to be heated up to above 60°C.
According to TechCrunch, the company has rolled out a pilot data center in Finland with 100kW of compute
Societe Generale Ventures, set up in 2019, is the venture capital unit of the European financial services group, Societe Generale.
"The partnership we signed with Qarnot, pioneer and leader in the reuse of data centers' waste heat, is part of the concrete initiatives that give shape to our ambition. After having had Qarnot as a provider to reduce our carbon footprint, we decided to go further by investing with Societe Generale Ventures in the company, to support their growth and scale up," said Alexandre Fleury, co-head of global market activities, Societe Generale.
Set up in 2018, Banque des Territoires is a subsidiary of Caisse des dépôts et consignations, the investment arm of the French State. ADEME Investissement, also set up in 2018, is also owned by the French State, and aims to invest in energy and sustainability innovations.
Colam Impact is the investment subsidiary of Colam Entreprendre Group, focused in investing in companies with a social and environmental impact. Demete is a private equity firm focused on sustainability investments.
"Demeter is pleased to accompany Qarnot for its new development phase. The company is fully aligned with the Climate Infrastructure Fund's investment thesis about energy efficiency. After having convinced with its know-how and business model in France and abroad, Qarnot showcases unique environmental achievements," added Philippe Detours, managing partner at Demeter.