European data center firm Data4 Group has invested €2.5 million in Qarnot, the inventor of the Q.rad distributed computing radiator system. Data4 will become the first private shareholder and will use its "digital heaters" to extend the services it offers from its own data centers. 
Data4, which has facilities in Paris, Milan and Luxembourg, has taken a sizable stake in Qarnot, whose distributed model places servers in homes and offices, where their waste heat can be used to warm the building. Qarnot has been offering high performance computing (HPC) services, while giving free heat to the buildings hosting its servers. Qarnot's newest Q.rad is intended to also operate as a hub for Internet of Things data, and this deal will allow the system to reach more customers, by combining distributed computing with Data4's centralized services. It will also help fund international expansion, leaders of the two companies told DatacenterDynamics.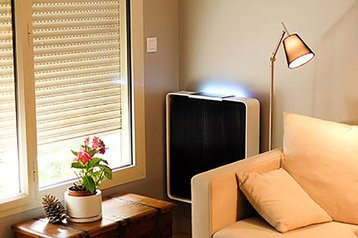 Complementary services
"Qarnot is not a competitor to traditional data centers," said Olivier Micheli, CEO of Data4. "This is an important and strategic investment. We believe in their business model. It is a disruptive approach delivering digital heaters. It will really help us to transform the services the market is delivering." 
Expanding on the complementary offerings, he said: "Qarnot is offering  HPC, while we deliver compute and storage on our premise. They are decentralized, and we are centralized. Qarnot is elastic, we are guaranteed."
The partnership emerged when a banking customer already in Data4's facility began talking to Qarnot, and the two providers realized they could work together to meet its needs, Micheli told DatacenterDynamics. 
Qarnot cold not offer its customers storage, while Data4 lacked the expertise to manage distributed applications, which Qarnot handles through its Q.ware software.
Paul Benoit, CEO of Qarnot told us that the deal would help drive Qarnot's expansion, and would not otherwise change the company's mission. With a new model launched at the consumer electronics show (CES), Qarnot aims to provide the "iPhone or the Tesla of the heater", Benoit told us. 
This new model includes more sensors and a wireless charger for mobile devices. It can also boot a local server which could eventually handle local computing to be displayed on a domestic TV. Benoit also plans to develop the Q.rad into a hub for Internet of Things data, providing a level of distribution beyond the current level of "edge" data centers, into the "smart house". 
"In the smart house, the data produced by smart objects will be impossible to send and we will have to have compute in the house," said Micheli. . 
In the partnership, Qarnot will offer network and storage services in Data4's secure data centers, and when customers have intensive computing needs, this load can be distributed across Qarnot's decentralized cloud. Qarnot's Q.ware distribution software will manage the workloads and IT resources.
Data4 has a total of 22,000 sq m of data center space and 30MW of power in its European sites. It has previously shown an interest in "green" computing, by providing its waste heat to greenhouses near its Paris facility.
Qarnot plans to expand beyond France, initially to Data4's other markets - Italy and Benelux - but eventually to the US and China, said Benoit.