Qarnot Computing has raised $6.5m to invest in R&D and grow its distributed computing business which also heats homes.
The Paris based firm builds units that sit in homes and offices, holding servers which perform calculations for remote customers, while doubling as radiators and boilers that use the excess heat to warm up buildings.
New investors include French bank, Banque des Territoires, and state investors, Caisse des Dépôts. Crunchbase reports that Qarnot received around €6m ($6.5m) in the venture round that was announced on March 31.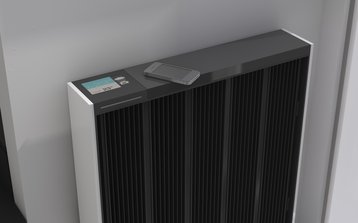 Four years later
"This fundraising will enable us to take another step forward and accelerate our growth around our range of products and services that are already recognized and in-demand," said Paul Benoit, president of Qarnot Computing. "Our new investors share Qarnot's vision, focusing on the highly strategic sectors of high-performance computing and energy efficiency in buildings."
This is the largest investment the company has had in four years. The last time the company received any significant cash injection was in 2016 when French data center firm, Data4 Group invested €2.5m in Qarnot and become its first private shareholder.
"Qarnot is not a competitor to traditional data centers," said the CEO of Data4, Olivier Micheli.
"This is an important and strategic investment. We believe in their business model. It is a disruptive approach to delivering digital heaters. It will really help us to transform the services the market is delivering."
"Qarnot is offering HPC, while we deliver compute and storage on our premises. They are decentralized, and we are centralized. Qarnot is elastic, we are guaranteed."
The partnership emerged when a banking customer already in Data4's facility began talking to Qarnot, and the two providers realized they could work together to meet its needs.
Q•Ware
The company also has a digital water boiler. The QB•1 digital boiler captures the heat released by 24 servers and uses it to heat water.
Qarnot says these are for larger commercial buildings. The digital boiler is now being used by Casino, one of France's largest grocery store chains, to heat one of its warehouses.
On the cloud computing side, the company has now signed up several major French banks, including BNP Paribas, Société Générale, and Natixis.
The company's products allow customers to change the temperature of the device much like any traditional heating device. Qarnot does this by determining how many computations are sent to the servers. In the summer when people don't want the heating on, the customer can essentially turn it off and no more computations will be sent to the servers.
The company's software, Q•Ware, automates the distribution of computations, respecting the heating instructions of the users, and making sure that the computations are sent securely encrypted.