Cloud heating - the practice of distributing data centers and putting the servers inside building heating systems - seems to be building momentum.
No sooner did we hear that French bank BNP Paribas is running risk calculations on Qarnot's platform, so the heat generated can warm homes in Paris, than another distributed cloud heating system pops up - this time in the Netherlands.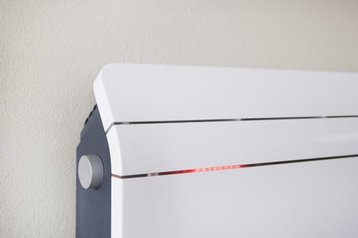 Wall-mounted servers
Nerdalize has a similar-looking approach to the more established Qarnot, with wall-mounted radiators to heat rooms. Like Qarnot, Nerdalize specializes in RAM-intensive high-performance computing applications.
Like previous entrants, it has had to counter the arguments that distributing systems makes them less efficient, and that data centers are already very efficient, thank you. Doesn't a PUE of 1.2 means only one sixth of the energy is "wasted"?
That misses the point of course. Cloud heating approaches don't just operate on the energy used in the non-IT parts of a data center. Potentially they reuse all the energy spent in processing as well, since all the energy going into the data center turns into heat.
Using that is an opportunity worth chasing, and the people in the field are starting to make actual progress. .  
Nerdalize doesn't have a deal with a big bank like Qarnot does, but it does have a partnership with an energy company, and that sounds like the right kind of partner. Dutch utility Eneco has agreed to a trial, in which its customers can install one of the heaters, and Nerdalize will pay for the electricity they use.
The trial is only for five households, and they have to agree to have a hole made in an outside wall. On hot days, the device needs access to outside air to vent heat. But Nerdalize reports it has had hundreds of requests to join the trial.
Unlike Qarnot, the devices are water cooled, which makes them a little more like Germany's Cloud&Heat, which offers general purpose cloud services running on cabinets plumbed into the heating systems of larger buildings. Cloud&Heat is also hoping for great things when it launches on the Deutsche Borse Cloud Exchange.
Early stage means variety
This part of the industry is very much in its early stages. The variety of offerings and business models makes that clear. But all the players are interested in each other's work. It was fun introducing Qarnot's Paul Benoit and Cloud&Heat's Jens Struckmeier at the DCD at CeBIT data center event earlier in March.
And it's clear that other people will add more to the party. Europeans are watching the Indiegogo startup Exergy of New York with interest, as its custom-made server boxes have some unique features.
And back in Europe, there are probably others in this field I've not yet spoken to. In the next few weeks I hope to report on a stealthy firm which has been making digital boilers for some time, and another company which is approaching this from the software level.
A version of this story appeared on Green Data Center News.