Qarnot, the French company which makes small computing modules or "boilers" to heat buildings, has upgraded its hardware to use refurbished data center servers.
The new water-cooled QBx modules sit in homes and offices, provide heat, as well as performing remote cloud calculations which Qarnot distributes across the boilers. For 2022, the company has updated its hardware, in collaboration with ITRenew, to use Open Compute Project (OCP) hardware which has previously been used in hyperscale data centers.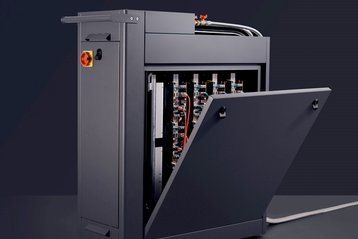 Don't trash hardware
"We use heat and hardware which normally would be trashed," said Clement Pellegrini, CTO of Qarnot in a pre-launch video in 2021. "As the heat is recovered, we can have a lower carbon footprint for the computation."
Qarnot says it has deployed 12,000 cores of the new model since February, and plans to install 100,000 cores in 2022. Previous heating customers include housing projects in France and Finland, while BNP Bank and digital imaging clients have distributed calculations across the boilers.
The system recovers 96 percent of the heat produced by the server, transferring it by cold plate to a water circulation system. The IT side consists of 12 or 24 AMD Ryzen processors optimized for supercomputing, in OCP Leopard/Tioga Pass/Capri architectures with a PUE that "tends towards 1.0". Because there are no fans, it can be installed in homes and offices.
"We have moved to bigger infrastructure using our new QBx cluster modules," Qarnot founder Paul Benoit told DCD in an email. "It's totally based on OCP. Today, we favor recertified servers since they are very performant (and available)."