A decision on whether to grant planning permission on a €1.2 billion ($1.4bn) campus in Clare County, Ireland has been delayed as local officials seek further information on the development.
The Clare County planning authority had been due to make a decision on the Ennis data center development in west Ireland but developers Art Data Centres now have six months to respond to the county's questions.
ClareChampion reports that Clare County Council stated: "It is considered that the information submitted with this application is insufficient to enable the planning authority make a complete planning assessment of the proposal."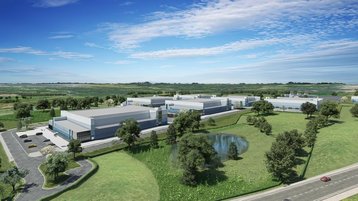 "In order to complete the assessment of the direct and indirect effects on the environment of the proposed development the planning authority requires the submission of the further information," the planning authority said.
A €450 million ($526m) facility when first proposed in 2019, the proposed development was recently expanded to a €1.2 billion campus with six two-story data halls and up to 200MW of capacity and turned into a "key pillar" of Clare County Council's 2040 Economic Plan. The expanded plan, which was already unpopular in its original guise, drew criticism from Extinction Rebellion and other groups.
Clare officials raised concerns raised that works could lead to an increase in flooding at the Aughavaddy Bridge during storms and have requested the submission of a survey on the effects of the installation and the ability of the bridge to convey the flow of the Gaurus river during storm events.
"The Aughavaddy Bridge has a history of bottleneck for the flow of the Gaurus river," the authority pointed out, adding there are "concerns that the inclusion of another pipeline may increase the likelihood of flooding event at this location during storm events."
The developers have been asked to address this issue and consider an alternative route or an upgrade of the existing bridge to eliminate the bottleneck.
Other documentation sought from the developers includes an outline of potential alternative locations including the use of existing brownfield sites. It also wanted more information around additional ground-works to connect the facility to local ISP networks. The planning authority has also noted that excess heat from the proposal "may provide an opportunity for the provision of a district heating system" for the local area.
Local councilor Johnny Flynn this week said he had "serious reservations" over the development, claiming the current application isn't in compliance with the goals of the Clare Local Economic and Community Plan or the Clare Renewable Energy Strategy concerning the need to reduce energy use and greenhouse gas emissions.
More in Construction & Site Selection