Campaigners from Extinction Rebellion and other groups in Clare, Ireland, have criticized a plan for a data center in Ennis which has tripled in size while still on the drawing board.
The proposed €1.2 billion Ennis data center, with six two-story data halls and up to 200MW of capacity, has become a "key pillar" of Clare County Council's 2040 Economic Plan, expanding from a €450 million facility when first proposed in 2019. Protesters have said the project consultation was "almost non-existent" and very little can be found online about the company behind the proposal: Art Data Centres is reportedly based in Dublin and was founded in 2018, but has no online presence we can find, and may very well be a front for a more established player.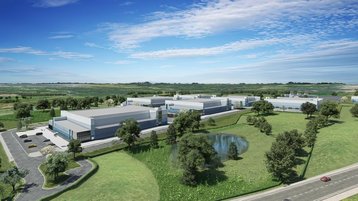 The Art of data centers
Although the proposal is from Art Data Centres, the page on Clare Council's site for the project contains no information about Art, but includes an application prepared on Art's behalf by architect John Spain, which details a plan for six two-story data halls covering 145 acres or 1.3 million sq ft (120,000 sq m), with access to up to 200MW of power.
The application was received on 16 July, and a decision is due on 9 September. Objections or comments are due by 19 August.
Development manager Tom McNamara spoke to RTE before the application was filed, saying a development in Clare would ease the strain on the power grid around Dublin. Although the name Art Data Centres is widely quoted, McNamara's site says the client's name is "confidential," and gives no more details of the West Ireland data center project.
Protestors including Futureproof Clare, Extinction Rebellion Clare, and the Clare Environmental Network object to the energy center, which consists of 18 lean-burn natural gas turbines. The groups, who are having an online webinar on Monday, claim that the data center will actually generate 120MW of its capacity on site from burning gas, and get 80MW from the grid.
"Gas will be burnt to power this data center during a climate emergency, when Ireland is supposed to be reducing national emissions by 51 percent under the Climate Action and Low Carbon Development (Amendment) Bill. The proposed development will increase our fossil fuel emissions and is incompatible with this Bill," says a draft letter of protest produced by the groups.
Burning methane on site would carry a big risk of releasing methane in transit, the groups point out, and methane has a far higher global warming potential than CO2.
The objections come as the world's climate scientists this week have issued a stark warning about the scale of climate breakdown, while abnormal wildfires burn in North America, Europe, Greece, and Turkey,
The protestors believe Art Data Centres is getting an easy ride: it's not being required to use or generate renewable energy, or to give its waste heat to a district heating system: "Clare County Council is not requiring Ennis Data Centre to generate any renewable energy. If Big Tech cannot provide new renewable energy to power their data centers, they should be refused permission," said Aisling Wheeler of Extinction Rebellion, according to the Clare Echo.
Art Data Centres' proposal claims the project would generate 1200 temporary jobs during construction, and 250 in the data center.
Datacenter Dynamics has reached out to players involved in all parts of this story.