The Philippines' only nuclear power station should not be activated but instead turned into a data center, a local government leader has argued.
The Bataan Nuclear Power Plant [BNPP] was completed in the 1980s but never activated, and has laid dormant for more than 30 years. Some officials are calling for it to be turned on, while others are arguing the site would make for a better data center and that government investment should instead go towards more modern nuclear technologies.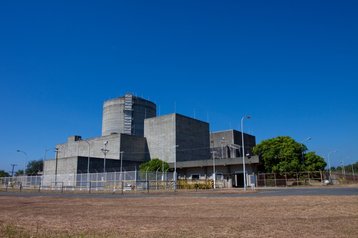 During a climate change summit this week, Bataan Gov. Jose Enrique S. Garcia III said that the region and country should be open to Nuclear technology, especially small modular reactors (SMRs).
However, Governor Garcia compared the choice between activating the aging BNPP and adopting SMRs to buying a car: "If you choose [between] a 1985 model vs. a 2022 Toyota Corolla model, which do you prefer?"
He also noted that the region's moth-balled Bataan Nuclear Power Plant would be better served being converted into a data center.
"Instead of reviving the existing power plant, we should move forward to new technologies," he said. "[The site's] potential in terms of revenue, job generation, and actual economic impact is to convert the Bataan Nuclear Power Plant into a cloud computing facility."
Garcia said it could be one of the largest facilities in the country and has ample water cooling available. Garcia also made reference to Nautilus and the fact it utilizes water cooling from rivers as an example of technology that could be used.
"What could be a more safe and strong structure than that of a nuclear power plant? The BNPP site is secured and safe, and has a water cooling provision which is of utmost importance to a data center," Garcia said.
Construction began on the plant in 1976. The 621MW facility was completed in the mid-1980s despite delays and ballooning costs – it was long the country's largest source of foreign debt obligations – but was never fuelled or activated.
Despite laying dormant for decades, some within the country would like to explore activating the power station. Negros Oriental Representative Arnolfo Teves Jr. recently filed a bill – House Bill No. 2921 or the Philippine Nuclear Act of 2022 – asking the government to explore the viability of using the power station to meet the country's energy needs.
The Philippines' Department of Energy first proposed turning the facility into a data center in 2017 again in the face of calls to revive the plant, but the suggestion did not gain traction.