Palestinian telecoms company Paltel Group has launched its second data center.
Its 65,000 square foot (6,000 sq m) facility in Ramallah, central West Bank, is Uptime Tier III Design certified, and is the first in the country to receive an Uptime award.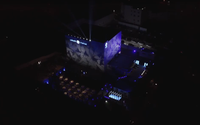 The 'Al-Berih' facility was briefly detailed in a Bloomberg piece earlier this year, where Chief Executive Officer Ammar Aker said the $10m facility would be used for colocation, cloud-based disaster recovery, back office and other services. "Return on investment will be immediate," he said at the time.
But Aker admitted that the finances of the Palestinian Authority were a concern, with the local government owing Paltel $60 million. "The financial situation of the Palestinian Authority is frightening for anyone doing business in Palestine," he said. "You have to deal with challenges of a different shape every day and hope things on the ground will improve."
At a ceremony late last week, Palestinian Prime Minister Mohammad Shtayyeh joined Aker in launching the facility. Attendees were treated to a light show projected onto the side of the data center.