Amazon Web Services may set up a data center cloud region in Israel, as it considers vying for government contracts.
The Times of Israel reports that the company is mulling setting up a facility in the southern town of Yeruham, should Amazon win a tender to provide cloud services to government ministries and other public entities.
Win first, build later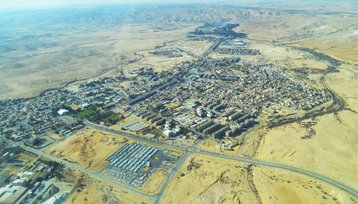 In September, Israel's Finance Ministry and the Government Procurement Administration said that they planned to issue a tender in 2019-2020 for the supply of services based on a public cloud platform, servicing multiple government organizations.
The regional data center providing the services would have to be based within the country.
Tal Ohana, Yeruham's mayor, told The Times of Israel that Amazon was eyeing her town as a site for a data center, should they win the upcoming tender.
"We are looking to set up a data center with them," Ohana said. As part of the discussions, she met with Yaron Altshuler, Israel Country Lead, Amazon Web Services Public Sector.
Amazon has yet to officially decide to compete for the tender, and declined to comment. The company is, according to publication Calcalist, also planning to launch its e-commerce business in the country this September.
The Finance Ministry said in a statement to The Times of Israel: "The Israeli Government Procurement Administration is in the process of exploring and learning the government needs for cloud services as part of preparations for the publication of a government tender for the purchase of cloud services.
"The platform is expected to be used by government ministries and other public entities. At this stage, the biggest suppliers in this field have expressed interest in the tender."