Oracle has opened a new cloud region in Madrid, Spain.
The company this week announced its first Oracle Cloud Infrastructure (OCI) region in Spain, its 40th region worldwide.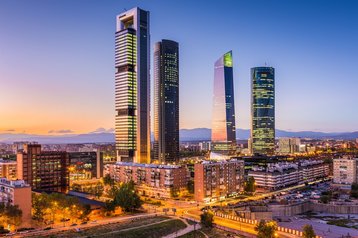 "Local organizations and public institutions are taking firm steps to establish Spain as a country focused on technology-driven innovation," said Albert Triola, general manager of Oracle Spain. "With the opening of the Oracle Cloud Madrid Region, we're reinforcing our commitment to help our customers take advantage of the best cloud technologies while enabling the highest security standards, availability, and performance."
The company previously announced it was partnering with Telefónica for the Madrid region. Through its Movistar subsidiary, Telefónica operates the Tier IV Alcalá CDG facility on the outskirts of Madrid; the facility was built in 2013 and spans 23 data halls, each measuring 681 sqm, and offers up to 100MW of capacity.
"One of the key drivers for success in the cloud market is to help our customers embrace the cloud to grow their businesses, offering a complete and differentiated portfolio with the support of reference partners. Our partnership with Oracle will allow us to expand our cloud services and strengthen our strategic positioning in PaaS, as well as reinforce our database and middleware applications' value proposition with one of the market leaders," said María Jesús Almazor, CEO of cybersecurity and cloud at Telefónica Tech.
"The opening of an Oracle Cloud region in Spain is more than good news. We congratulate Oracle for this decision, which will greatly contribute to the innovation of new products and services in the cloud. This is a great opportunity for our joint customers and, without a doubt, a great boost for their cloud journeys," added Ramón Pérez, chief sales and portfolio officer, Capgemini.
Oracle opened its 37th cloud region in Johannesburg, South Africa, in January of this year, and a second French region in Paris and its first Mexican region in Querétaro in June.
The company plans to have at least 44 cloud regions by the end of 2022; It will open its first regions in Colombia this year, with additional second regions are due to open in Saudi Arabia, Israel, and Chile. The company has also opened a dedicated facility in Texas for TikTok's US operations.
Oracle usually aims to have regions in each country for resiliency, but is yet to announce a second OCI region in Spain. The company is separately working on a sovereign cloud region in the country, set to open around 2023.
Oracle said it now operates 10 European cloud regions that run on 100 percent renewable energy, including Madrid.
This month saw Oracle announce its Q1 2023 earnings report. Total quarterly revenues were up 18 percent year-over-year in USD and up 23 percent in constant currency to $11.4 billion. Q1 GAAP operating income was $2.6 billion, down 23 percent in USD and down 17 percent in constant currency. Non-GAAP operating income was $4.5 billion, up 3 percent in USD and up 10 percent in constant currency. GAAP net income was $1.5 billion, and non-GAAP net income was $2.8 billion.
During its most recent earnings call, Oracle said Chilean telco Entel is moving all of its critical workloads from AWS to OCI.
"In Q1, total revenue grew 23 percent in constant currency beating guidance by $200 million," said Oracle CEO, Safra Catz. "As our cloud businesses become a larger-and-larger percentage of our overall business, we expect our constant currency organic revenue growth rate to hit double-digits with a corresponding increase in earnings per share."