Oracle has launched a new European cloud region in Serbia.
The Serbian government this week announced the launch of the local Oracle Cloud region in an opening ceremony attended by President Ana Brnabić and a number of other officials.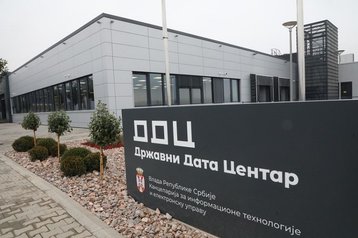 Oracle first signed a Memorandum of Understanding with the government of Serbia to open a new Cloud region in the country in October 2021. Plans for a Serbian cloud region were then announced the following October. It is the only large cloud provider with a region in the country.
Oracle's region is located within the State Data Center in Kragujevac. Work on the €30 million ($34.7m) State Data Center in the central city of Kragujevac began in 2019 and it opened in 2020.
"The decision of Oracle, one of the largest IT companies in the world, to lease space on a commercial basis and store its data right in Serbia, here in Kragujevac, in the State Data Center - shows that we as a country, our institutions, our experts with their knowledge and efforts, we managed to win on the very competitive and tough IT market of the most developed European economy," said Minister of Information and Telecommunications, Mihailo Jovanović.
The government also announced that state-owned telco Telekom Srbija (which operates under the MTS brand) has signed on as a customer of the new cloud region.
"Local organizations and public institutions are taking firm steps to establish Serbia as a country focused on technology-driven innovation," added Kenneth Johansen, vice president of cloud technologies and regional director for Northern and Eastern Europe at Oracle Corporation.
"With the opening of the Oracle Regional Cloud Center, we are helping our customers take advantage of the best cloud technologies while ensuring high security standards, availability, and reduced latency."
The government has previously said the data center spans two facilities covering an area of about 14,000 sqm (150,700 sq ft); some five times larger than the previous facility in Belgrade. Built to Tier IV standards, it offers hosting services to enterprises and other governments as well as hosting Serbian state data.
The Serbian government was already an Oracle customer, having said in 2018 it had purchased Oracle software and hardware for citizen data systems. The State's eGovernment portal is reportedly hosted on Microsoft Azure Stack infrastructure hosted within the SDC.
This month UAE telco e& (Etisalat) also announced that it will be deploying Oracle Cloud Infrastructure (OCI) Dedicated Region – Oracle's on-premise cloud offering – at its facilities, but didn't provide details. Another UAE firm, G42-owned Injazat, also announced it would be deploying a Dedicated Region.
At a recent Oracle Database Summit, chairman Larry Ellison reportedly claimed the company aimed to develop "hundreds" of low-cost cloud data centers, with 'at least one in every country in the world.'