Oracle has signed a Memorandum of Understanding with the Government of Serbia to potentially open a new Cloud region in the country.
The company reportedly signed the MoU with the country at the World Expo in Dubai this week to "evaluate the possibility of an Oracle data region" within the State Data Center in Kragujevac.
A Serbian Government press release said a new local Cloud region would support the growing demand for cloud services in the region, enable the creation of a digital hub, and allow Oracle to offer services to users in both Serbia and neighboring European countries.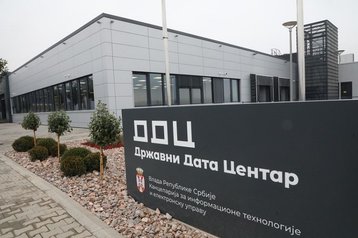 "The possibility of partnering with Oracle, one of the world's IT leaders, as a potential commercial user in the State Data Center in Kragujevac, confirms how the government of the Republic of Serbia is driving digitalization, investing in the state-of-the-art infrastructure of data centers and human and technical resources," said Mihailo Jovanovic, Director of the Office for IT and eGovernment for Serbia.
Last week Oracle said it planned to have at least 44 cloud regions by the end of 2022. The company currently has 31 facilities open and wants 38 available by the end of this year. Upcoming cloud regions include Milan, Italy; Stockholm, Sweden; Marseilles, France; Spain; Singapore; Johannesburg, South Africa; Mexico; and Colombia. Second regions are to open in Abu Dhabi, UAE; Saudi Arabia; France; Israel; and Chile.
Oracle's closest currently available region to Serbia is in Zurich, Switzerland. Its previously-announced Milan region in Italy will be closest once open.
"Oracle recognizes the importance of the Republic of Serbia as a digital transformation hub and can see the value of the cloud region to take the citizens, businesses and customer experience to a new level with more technology efficiency and agility with the highest levels of security," said Leopoldo Boado Lama, Oracle Senior Vice President of Application Sales, Middle East, Africa & EECIS.
Work on the €30 million ($34.7m) State Data Center in the central city of Kragujevac began in 2019 and it opened in 2020. The Government said the data center spans two facilities covering an area of about 14,000 sqm (150,700 sq ft); some five times larger than the previous facility in Belgrade. Built to Tier IV standards and will offer hosting services to enterprises and other Governments as well as hosting Serbian state data.
The Serbian Government is already an Oracle customer, having said in 2018 it had purchased Oracle software and hardware for citizen data systems.
The State's eGovernment portal is reportedly hosted on Microsoft Azure Stack infrastructure hosted within the SDC.