UK satellite communications company OneWeb has paired with the 5G Innovation Centre at the University of Surrey (5GIC) and CGI to test the integration of satellite communications and mobile 5G networks.
The new pilot scheme will test OneWeb's ability to leverage its Low Earth Orbit (LEO) network to communicate with terrestial 5G mobile phones.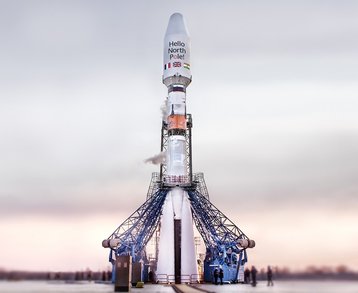 This 5G-pilot test is funded by the UK Space Agency and European Space Agency under Sunrise Partnership Project, and is expected to last for 18 months, confirmed OneWeb.
According to OneWeb, the scheme looks at three high-level components, the first of which focuses on the development, testing, and validation of OneWeb's low-latency satellite network capability to transport 5G services in backhaul. It also looks at the development, testing, and validation of the ability of OneWeb's prototype beam hopping 'Joey-Sat' satellite to transport 5G services in backhaul.
The third component, says OneWeb, is that it carries out testing of backhauling from a mobile 5G base-station to a 5G core network to provide seamless mobile connectivity for transport.
"Creating an interoperable low Earth orbit satellite communications and mobile 5G network is critical to achieve a ubiquitous, affordable, fast and consistent connectivity experience to businesses, users and governments," said OneWeb chief technical officer Massimiliano Ladovaz.
"This pilot is an important step in our mission to connect people everywhere, on land, at sea, and in the air, providing the opportunity for people to realize their full potential even in the remotest reaches of the planet."
The company is tasked with bringing a 5G-Pilot Test to a market-ready position by developing the technical and operational elements to offer this service.
Meanwhile, the 5GIC at the University of Surrey will offer its expertise on satellite and 5G terrestrial networks, while acting as the 'reference' mobile network operator (MNO) within the project. The 5GIC will provide test-bed resources with end-to-end slice MNO middleware, 5G core network (made in the UK), SDN infrastructure, QoS management, and test RAN.
CGI's role in the pilot will be to deliver and integrate a 5G enabled connectivity solution for mobility, which will be demonstrated using a road vehicle, that runs on a Druid Software 5G core network.
Earlier this year OneWeb signed a new distribution deal with Spanish MNO Telefónica, signing a Memorandum of Understanding (MoU) to provide connectivity services across Europe and Latin America.
Last month OneWeb also partnered with satellite communications company Intelsat to provide airlines with inflight connectivity (IFC).
But OneWeb has recently been hit by a $220 million impairment charge due to scrapping several launches and leaving a number of yet-to-be launched satellites in Russia, as a direct impact of the ongoing conflict with Ukraine.
The company had been due to launch 36 satellites in early March via a Soyuz rocket from a Russian-owned launchpad in Baikonur, Kazakhstan. But, in the wake of Russia's invasion of Ukraine, Russian space agency Roscosmos said it was limiting access to its Soyuz rockets – the type used by OneWeb's original launch partner Arianespace.
Plenty of space for everyone
The announcement of these trials from OneWeb follows a host of other companies looking to connect mobile phones from Space.
Just a couple of days ago Apple announced its latest iPhone 14 will feature emergency SOS via satellite, through Globalstar's satellite connectivity.
This means that people will be able to send emergency SOS alerts outside the reach of cellular networks from remote locations with the iPhone 14. Although this service is limited to the US and Canada for now, once it launches in November.
T-Mobile has also outlined its ambitions in this space after striking a deal with Elon Musk's SpaceX. This pairing will see the operator use SpaceX's Starlink satellites to generate mobile signal connectivity from space to eliminate all dead zones in the country.
Belgian communications firm BICS signaled its intentions with expanding mobile coverage to remote areas, via satellite after penning a deal with satellite-direct-to-phone telecoms company Lynk.
AST SpaceMobile is developing its constellation of direct-to-mobile communication satellites, and has agreements with Vodafone and AT&T.
Huawei's latest flagship smartphone the Mate 50 smartphone also offers the ability to send texts via satellite communications. Rugged smartphone vendor Bullitt Group has announced its intention to bring something similar to the market.