NTT has landed a subsea cable in Chennai, India.
The MIST subsea cable has landed in the city, located in Tamil Nadu on the east coast of India, NTT Global Data Centers confirmed.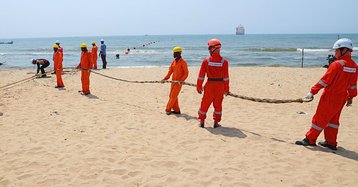 "A great event yesterday as we celebrated the landing of the MIST cable in Chennai," the company said on LinkedIn this week. "This is India's first 12 fiber pair capacity system with an impressive 200Tbps bandwidth - one of the largest bandwidth submarine cables in the Asia-Pacific region."
The 8,100km Myanmar/Malaysia India Singapore Transit cable system connects Singapore, Malaysia, Myanmar, Thailand, and India. NTT landed the cable in Mumbai in February 2023.
The NEC-constructed subsea cable system was first announced in October 2019, with construction reportedly set to commence in December of that year. Originally set to launch in 2022, the cable is now expected to go live in late 2023.
As well as NTT, the Orient Link joint venture includes the Fund Corporation for the Overseas Development of Japan's ICT and the Postal Service, and WEN Capital Pte Ltd.
The cable is set to land in Morib, Malaysia; Tuas, Singapore; and Satun, Thailand.
Chennai is a major landing point in India. The city currently hosts five other cables (BBG, i2icn, SeaMeWe-4, Tata TGN-Tata Indicom, and the Chennai-Andaman & Nicobar Islands Cable), with two more (IAX and SING) planned.