Plans for a new data center project in Catlett, Fauquier County, Virginia have been submitted.
The Catlett Data Center Park concept plan shows two data center structures on the site totaling 450,000 square feet (41,800 sqm), but the companies involved have not yet been revealed.
Catlett is a small area near Route 28 in southeastern Fauquier County, Northern Virginia. Applicant and landowner Catlett Station II LLC is seeking to rezone 60 acres of land for data center development.
Register now for DCD's upcoming Building at Scale virtual conference
Catlett Station II LLC is under contract to sell the property to an unnamed "national, well-regarded data center developer" who plans to develop the site for an also-unnamed "very desirable tenant."
"The proposed development represents a significant, long-term investment in Fauquier County that will generate jobs and tax revenue for decades with little pressure on public facilities and infrastructure," says the application.
Catlett Data Center companies keeping quiet for now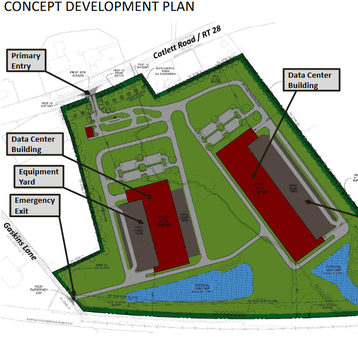 According to the plans, construction on the northern building is scheduled to begin in summer of 2021, buildings will be air-cooled using little water which is recycled in a closed-loop. The application claims no new power infrastructure such as substations will be needed and discussions with Dominion Energy are ongoing.
The development will support an estimated 350 construction and trade jobs during building work and could employ 20-40 data center operators once live.
The work session where Fauquier County's planning commission will hear the plans is due to take place on February 18.
FEATURE: Virginia's land dilemma and why Southern Virginia could become a new data center hub
Christopher Consultants Ltd, which was used for land planning in the proposals, has previously been involved in QTS facilities in Northern Virginia. Project architect Corgan has been involved in a number of data center projects including Databank, Sentinel Data Centers, CyrusOne, and Cisco.
Northern Virginia continues to be the data center capital of the world. More than 500MW of colocation capacity was leased in the area last year, according to a North American Data Centers report.
Three amendments to Virginia's data center tax breaks are being considered by the State's Senate and House of Delegates in a drive to encourage more data center investment in the rest of the state.