Three amendments to Virginia's data center tax breaks are being considered by the State's Senate and House of Delegates. The bills aim to spread the economic benefits of the data center boom in Northern Virginia, by making it easier for projects to get tax exemptions in areas of higher unemployment.
Two bills would lower the job requirements for companies looking for tax breaks when building data centers in 'economically distressed' areas of high unemployment in the Commonwealth, with one also significantly lowering the required capital investment required to qualify. The third would reduce job creation requirements if the data center operator has already been granted tax exemption on a previous facility.
FEATURE: Virginia's land dilemma and why Southern Virginia could become a new data center hub
Data center tax incentives to help Southern Virginia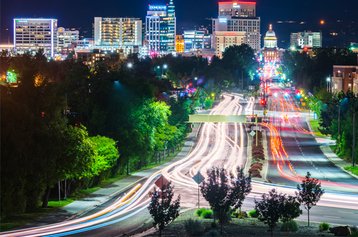 Under current regulations, Virginia offers retail sales and use tax exemption (DCRSUT Exemption) for projects that involve $150 million of new capital investment and create 50 new jobs located at the data center associated with the operation or maintenance of the data center, with a lower threshold of 25 jobs for data centers in 'distressed' areas with higher than average unemployment.
A proposed amendment (SB 1423) has been introduced by Sen. Jeremy McPike (D-Dale City) with support from Sen. Todd E. Pillion (R-Abingdon), which would reduce the job creation threshold for data centers in distressed localities receiving tax breaks, from 25 to 15 jobs. The bill would also change the definition of distressed localities somewhat and adjust the information the data center company needs to provide to the Virginia Economic Development Partnership Authority (VEDPA). First introduced in January, the bill has passed the Senate and has been referred to the Committee on Finance.
"This is a critical bill for Southwest and Southside Virginia, connecting tech sectors and fiber with much needed local investment, lowering energy and land costs while leveraging geothermal advantages of former coal mines," McPike said during a series of Tweets.
At the same time, a separate bill (HB 2273) introduced to the House of Delegates by Del. Will Morefield (R-North Tazewell) with support from Del. Terry Kilgore (R-Gate City) would lower the job requirement for 'distressed areas' from 25 to just four jobs and reduce the $150 million capital investment down to $1.9 million. As with the other bill, it would also require annual reports to be submitted to the (VEDPA), which would then publish aggregate data on data center tax exemptions. Also introduced in January, this bill has also passed the Senate.
Morefield has previously said that he hopes that Amazon "will one day operate a facility in the coalfields or even serve as a lead generator for prospective companies to locate here."
There is also a third bill (SB 1425), introduced by Sen. Frank Ruff (R-Clarksville) and again supported by Sen. Pillion, that would reduce the job requirement from 50 to 25 for any subsequent data center operators locate in any Virginia locality if the company already has been granted tax exemption on a previous facility. Again this has passed the Senate is has been referred to Committee on Labor and Commerce.
Register now for DCD's upcoming Building at Scale virtual conference
Northern Virginia is the main data center hub for the whole world, but the benefits are concentrated in a few counties. More than 500MW of colocation capacity was leased in the area last year, according to a North American Data Centers report. A 2019 study by the Joint Legislative Audit and Review Commission found that 69 percent of data center investment between 2009–2018 went into Northern Virginia, with 15 percent going into Richmond, and 10 percent to Southside.
A new marketing initiative known as InvestSWVA is seeking to draw investment towards Southern Virginia. The region has traditionally been a coal-mining hub and is looking to draw new investment and job creation with cheap land and low taxes.
Virginia as a whole already offers generous terms to data center companies. In 2020, the commonwealth beat its own record for data center tax exemptions, distributing more than $110m and beating its previous record of $92.2 million set in 2019.