The former vice president of global data center construction at Microsoft has joined Meta, the company formerly known as Facebook.
Douglas Mouton started the position this month, as a 'principal program manager.'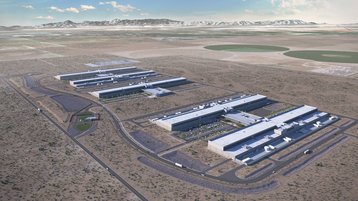 Mouton spent six years at Microsoft, joining in 2015 as the general manager of global data center execution. From there he became GM of construction, then GM of global data center procurement and construction, before spending 11 months as the VP of global data center construction.
Prior to working at Microsoft, he was at engineering firm Jacobs for nearly eight years. He held several roles, ending up as group vice president for 'Buildings and Infrastructure Program Management Construction Management' worldwide.
Between the Microsoft and Facebook roles, he took a year-long sabbatical (which may have partly been due to non-compete, but we cannot confirm), where he volunteered and studied bio-mimicry applied to sustainability in design and construction.
DCD has contacted Mouton for more information on his new role and will update this story as we learn more. An April job posting for a 'principal program manager, infrastructure circularity' notes that "Meta is seeking a Principal Program Manager to join our Infra Data Center (IDC) Site Services Team. This role will collaborate with cross-functional infrastructure teams to build and deliver transformational solutions that enable circularity at scale in service to Meta's commitment to reach Net-Zero carbon emissions by 2030."
That job listing is no longer active, but it is not clear if that is Mouton's new position, as the company uses principal program managers as a broad job title for different roles.
The high-profile data center hire comes after Meta was unable to build the Netherlands' largest data center due to political pushback, and follows the company using more cloud services than ever before - picking AWS as a "long-term strategic cloud provider," and Microsoft Azure for an AI supercomputer.
However, it is still investing heavily in its own infrastructure: Last year, it said it planned to spend between $29 billion and $34 billion on data centers, servers, and offices in 2022. Just last month the company confirmed it was expanding its Gallatin data center. DCD research found that Meta is operating the world's largest data center, in Prineville.
DCD has contacted Microsoft for clarification on who took over Mouton's role, but the company is currently hiring for a 'global program director - data center.'
Last week, Microsoft also lost its Azure CVP and head of global infrastructure, Tom Keane. The exec said he was "taking the next step in my career to build on the world's computer" after 21 years at Microsoft, but did not disclose his next venture.
Earlier this year, an Insider report claimed that he was known as "King Tom" in the company because, according to sources quoted in the article, he expected staff to be at his "beck and call" and "obey him without question, or suffer his wrath."
Keane is believed to have been crucial in Azure's China strategy, JEDI procurement victory (although this was blocked by AWS), and Microsoft's GDPR response.
Update: The corporate VP of Azure IoT has also left the company.