Who owns the world's largest data center? Earlier this year, I tried to answer this question for a feature I was working on, assuming the result would be a quick Google search away.
But, after trawling through a number of simple listicles, it became clear that the reality is a little more complex.
This feature appeared in Issue 44 of the DCD Magazine. Subscribe for free today
According to numerous publications, the world's largest data center is the China Telecom-Inner Mongolia Information Park. At a cost of $3 billion, it spans one million square meters (10,763,910 square feet) and consumes 150MW across six data halls.
There's one problem, however: It's not clear the 2013 project is actually anywhere near that scale. We asked China Telecom, and the company - recently banned in the US - did not confirm nor deny its existence.
On its website, the company does show that there is a China Telecom-owned data center in the region. Further digging finds that it is on Jinsheng Road in Horinger, Hohhot. State media reports from 2017 show images of six halls, which we matched to satellite photography.
Satellite measurements put each hall as 89m long, 46m wide, giving the buildings around 4,361 sq m per floor (we confirmed the accuracy of the measurements against cars viewable in the same images). State media photographs suggest four floors per building, making each data center span 17,444 sq m.
Across the six halls, that's 104,664 sq m (1.1 million sq ft) - or a tenth of the public figure - and it's not clear how much of that space is dedicated to data centers.
Even with a margin for error on satellite photography or an extra floor we couldn't see, it's hard to understand how this cluster of buildings could be seen as the world's largest data center. We reached out to data center technicians working at the facility, but have yet to hear back.
The visible buildings appear to be the beginning of a centrally planned urban and industrial project, where development was either abandoned mid-way, or is still ongoing a decade after the campus began. Empty ten-lane highways end abruptly, giving way to dry grasslands.
So let's move on to the next largest data center. It turns out that it's also in Hohhot - a region with low ambient temperatures, cheap power, and lots of land, making it an attractive investment. In fact, it's meant to be right next to the China Telecoms data center, on what is referred to as the Shengle Modern Services Cluster.
"With 5G and China's ambitious plans, a lot more data centers will need to be built and China wants these to be inland (coastal cities are too crowded), and also wants them to use less energy (as it aims for carbon neutrality by 2060)," Jeroen Groenewegen-Lau, at the Mercator Institute for China Studies, told DCD. "Places like inner Mongolia, with abundant renewable energy and a cool climate, are set to benefit."
Back in 2014, China Mobile said that it would spend $1.92 billion on a 715,000 sq m (7.7 million sq ft) data center campus in Hohhot. This project is real - but, again, the figures might not be.
The US Green Building Council lists show a 7,400 sq m (80,000 sq ft) China Mobile Hohhot Data Center Office which is LEED-certified, confirming its existence, and in 2019 the company said that it had completed the development of some data halls.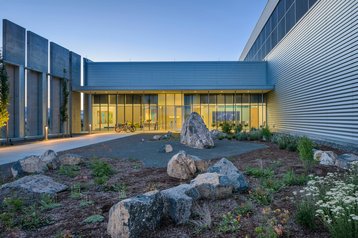 At the time, it had space for 9,000 racks, with 100,000 servers. A stage two development will add 15,000 racks and 150,000-200,000 servers, while a further stage after that could add yet more space (although square footage calculations are complicated because the company is also building an exhibition center). This all could indeed make it one of the world's largest data centers, but it's not completed as far as we can tell.
We searched the area again for data center-like buildings and only found two 12,240 sq m (131,750 sq ft) structures that fit the profile of a data center. Chinese publication Sohu reports that three computer rooms were built, including a spare parts storage center (which matches a nearby building we found). A second phase was reportedly underway, but Soho said that work had yet to begin on new data halls as of 2020.
China Unicom also claims to operate facilities at the Shengle campus, so it is not clear whether it owns any of the visible buildings. Representatives for both companies were not available for comment.
There are similar issues with several other purported massive China Mobile data centers. Companies often report the total size a facility could grow to, either based on what planning permission allows, or what sounds good to investors. Then they grow in stages, hoping to reach that ultimate number.
This may have been difficult for many of these eastern Chinese data centers. In 2018, China's Ministry of Industry and Information Technology found that demand for data centers in Beijing and Shanghai outstripped supply by 20-25 percent, but that in the northeast there were twice as many facilities as required.
It is possible that the companies began with large multi-billion dollar plans, and scaled back as demand failed to keep pace with their ambitions.
The nation is now trying to incentivize data center construction in the east and offload resources from cities, with major state subsidies - but such efforts will have been too late for the above projects.
A similar scaling back of ambitions may have happened for the next facility that is often touted as the world's largest: The Range International Information Hub.
Located in Langfang, China and co-built with IBM, this was originally meant to be 585,000 sq m (6.3 million sq ft) facility, according to numerous reports. Situated between Beijing and Tianjin, it is a perfect place for a data center.
Steven Sams, an IBM executive at the time, told DCD that "we had a series of conceptual meetings [about 10 years ago] with the technical and executive teams for the project to talk about designing and building highly energy-efficient and scalable data centers.
"Our view was that traditional data centers were very inefficient from both an energy and technology use perspective and that scalable technology virtualization which was emerging through cloud computing models required different data center designs flexible for different computing models and technologies.
"I had visited the site that had been defined for the massive multi-building complex and the Chairman of the project in China. In January 2011 coinciding with a state visit to Washington by President Hu Jintao, the chairman and I signed an extensive agreement in Chicago in which IBM was the design principal."
He added: "The work has obviously proceeded significantly over the last ten years, but without my involvement."
But the question that is critical to our search is just how much work has proceeded, and whether the focus is on data centers or other space. While many reports claim Range is a giant data center that is as large as the Pentagon, initial documents state that it will also include offices, apartments, and a hotel - so a lot of that space is not data center-related.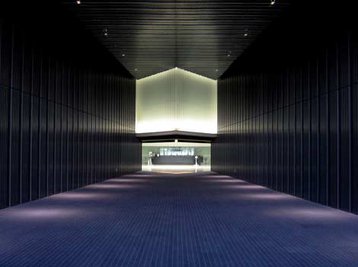 The Range Technology website still talks about the data center as a future project, saying that it has a "planned professional data center room area of ​​one million square meters," which is actually more than the initial pitch.
According to the plan, that size will be spread across 22 data centers. The website says that currently six have been built and that two more are in construction (although as the site refers to 2020 as a future date, this figure may be out of date). "It is estimated that by 2020, the park will have a computer room environment of 550,000 square meters."
In a post from November 19, 2021, the company said that the top of the main structure was just completed - suggesting some way was yet to go before the project is completed. The whole complex was initially planned for 2016 completion.
IBM declined to say if it was still involved in the partnership, suggesting that its spun out Kyndryl business might have an answer. Kyndryl did not respond to requests for comment.
Moving on. Multiple reports say the next largest data center is AT TOKYO's Chuo Data Center, with a total floor area of 140,000 square meters (1.5 million sq ft). The site is real, and indeed it is huge - it's simply a hefty cube in the middle of Tokyo.
The colocation facility is the largest single data center building in all of Japan. But is it the biggest in the world?
It's time to break away from poorly researched listicles and look ourselves at the thousands of facilities we have written about over the past two decades.
Most companies don't build that large - economies of scale only go so far, and cloud providers and colo customers often value geographic redundancy over mega projects. But there are still those that like to go big.
Perhaps one of the largest proponents of massive data repositories is the National Security Agency. The NSA tried to keep most of its giant Utah data center a secret, but being a giant building in Utah, that's not been entirely successful.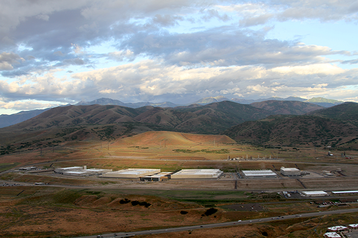 Spanning two large data center structures, each with two halls, as well as surrounding infrastructure, the data center is believed to be around 139,000 sq m (1.5 million sq ft), of which only 9,300 sq m (100,000 sq ft) is data center space and more than 84,000 sq m (900,000 sq ft) is technical support and administrative space. That's large, but just shy of what's found in Tokyo.
Another fan of largess is Digital Realty, one of the biggest data center companies out there. It owns the Lakeside Technology Center (350 East Cermak), a huge carrier hotel in Chicago. With more than 70 tenants and a robust business from financial firms serving Chicago's commodity markets, the building spans 102,200 sq m (1.1 million sq ft).
There are some caveats: Do we count a building that contains multiple data center companies as a single site? Plus, Digital Realty operates another giant building with seven data centers within it just 2.5km away - should we include that?
Before we get too deep into the weeds, let's keep looking
Another potential mega data center can be found in China - Centrin's data center in Wuhan. The company, which recently partnered with SpaceDC, claims it spans around 207,000 sqm (2.2 million sq ft) in the city's Lingkonggang Economic and Technological Development Zone. However, the facility is not finished - it is still in the first phase, totaling 70MW of IT load, and hopes to grow to 225MW.
Work appears to be ongoing, with the company recently being awarded an Uptime Tier IV design work for upcoming data halls at the site. For now, the facility is too small.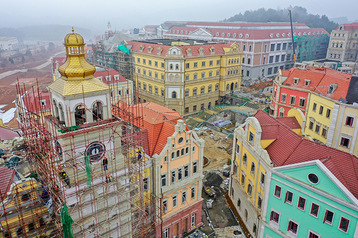 A different possible huge campus is one from Huawei, in the Gui'an New Area of southwest China's Guizhou Province. The company often styles its campuses in an almost fairytale-like rendition of European architecture, with this one based on Prague facades.
It's a peculiar-looking campus, more akin to a Disney theme park or a movie set, and yet the company claims it will be home to one million servers.
As Huawei's largest data center campus, the site currently spans 480,000 square meters (5 million sq ft), if local media can be believed. However, that also includes 98 training rooms capable of holding 3,000 people, R&D labs, an IT Maintenance Engineer Base, and what appears to be a 'Huawei University.'
10,000 people are expected to visit the campus a year - much more than would come to see a standard data center.
Of the dozens of buildings visible in photographs, only nine hold data center servers, a state media visit appears to suggest. "Each data center equipment room has three floors, and each floor has two modules," Huawei's William Dong told them. "In these modules we deploy servers, storage, and network devices." Eventually, there may be 14 data centers on the site.
Whatever the true size of the site - we have asked Huawei - it does not appear to be fully finished. The campus officially opened on December 20, 2021, but the main structure is expected to be completed this August. Images from a state media visit earlier this year show that the artificial river and lake are currently dry.
For now, it is too early to crown this facility as the world's largest - although it gets points for being one of the strangest to look at.
Let's head back to the US
Facebook loves to go big, building multiple 41,800 sq m (450,000 sq ft) data centers on sprawling campuses around the world. The largest of those is in Prineville. Across nine buildings and 344,000 sq m (3.7 million sq ft), it is an astronomically large site - and it's getting bigger. By 2023, the company plans to open two more 41,800 sq m halls, and this time they will be two stories each. That means a total of 427,000 sq m (4.6 million sq m).
Can we beat that?
It's time to look at Switch, which has five large campuses dotted around America that it calls "Switch Primes." The company has never been shy about its love of embracing scale, and its Switch Citadel campus is set to be its largest Prime site.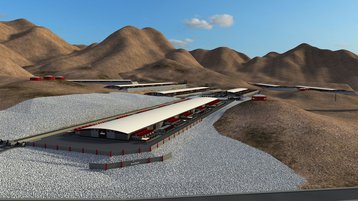 At full build, the 650MW+ campus will include 'up to' 761,800 sq m (8.2 million sq ft) of data center space across 12 data centers. That would make it, without any doubt, the largest data center complex in the world.
But it is not at full build, and 'up to' includes a lot of wiggle room. Switch told us that campus currently features 120,800 sq m (1.3 million sq ft) of operational data centers, with two additional buildings under construction for another 111,500 sq m (1.2 million sq ft).
That means it's a huge site, but not the largest. At the moment, it is not even Switch's biggest: That prize goes to its Las Vegas Core site, with 250,800 sq m (2.7 million sq ft) with additional buildings 15,16,17 and 18 "currently under various stages of construction for a total square footage of 390,200 sq m (4.2 million sq ft)," Switch told DCD.
Neither site is bigger than Facebook's current 344,000 sq m, but Core could briefly overtake it until Facebook grows to 427,000 sq m. Should Citadel fully build out - to a timeline Switch declined to disclose other than "within 10 years" - it would then comfortably overtake Facebook.
While this was mostly a thought experiment, Switch's EVP of technical solutions, Bill Kleyman, noted that "size is certainly important because you're able to do more and facilitate more customers."
However, he told DCD, "the other really important critical question here is just how much power can be delivered to the facility, and what is the density? Just because the size is large doesn't ultimately mean you can fit as much as some smaller data center."
Talking about other large data centers, Kleyman said that "if you have 10 million square feet, but your density is like 5kW a rack, then you're wasting a lot of space. You're doing something wrong."
He added: "And when people tell you how much power is available at the facility, they're saying how much power is available at the substation, or how much power is actually going into the facility? With Citadel, it's 900MVA that's in the building, and 1.5 gigawatts at the substation."
Still, that is a ways off. If we look at future promises of data centers, then we should also consider Quantum Loophole.
The company has bought a 2,100-acre property in Frederick County, Maryland, where it hopes to develop a 1GW campus consisting of 30-120MW data center modules it sells to other companies. That's twice as much land as Switch has for its Citadel - but again, one could debate whether Quantum's planned community of data centers can be counted as a singular data center campus, or rather a collection.
Other large potential data center projects include the 57,935 sq m (1.7 million sq ft) Digital Crossroad campus in Indiana, Corscale's planned 213,700 sq m (2.3 million sq ft) campus in Northern Virginia, and Amazon Web Services' planned 162,600 sq m (1.75 million sq ft) data center in Loudoun County.
But, as it stands, and as far as we can tell: The largest data center cluster owned by a single entity is Meta/Facebook's Prineville data center campus.
How about the largest single data center building? It is not actually AT TOKYO's Chuo Data Center data center, but may instead be another Facebook facility - the 170,000 sq m (1.8m sq ft), 11-story Singapore data center (although it is still in its first phase). There, land constraints meant that it made sense to concentrate a lot of servers in a single structure, something that companies usually avoid.
As for the largest potential data center project, it is either Switch's Citadel, Range, or Huawei's cloud campus, depending on whose publicity you believe.
However, we have to admit: We may be wrong. Many of the projects are shrouded in secrecy, or intentional marketing manipulation. There may still be a larger data center out there, quietly humming away in a Chinese province we have yet to scour.
If you think you know of a larger data center project, let us know