Microsoft is to launch a new Azure cloud region in Milan, Italy, soon.
The company this week announced the upcoming availability of its first cloud region in Italy, which it said would provide Italian organizations "access to scalable, available, and resilient cloud services."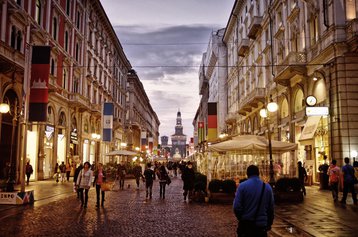 "The new cloud region, consisting of three data centers located in the Lombardy region, guarantees the highest levels of security, privacy, and performance, and it will contribute to the acceleration of the digital transition of organizations and public entities in the area," the company said.
Microsoft first announced plans for an Italian Azure region in Milan back in May 2020.
The region is likely located at Stack's Milan facility (previously SuperNAP Italita), with the company this week saying on LinkedIn: "We are delighted to support Microsoft in launching their first cloud region in Italy."
Ralph Haupter, Microsoft president of EMEA, said: "We believe that Italy's vibrant business landscape deserves the best technological infrastructure available. With our new data center region in Italy, we are empowering Italian organizations to seize the opportunities of the digital age, more easily scale their operations internationally and leverage new technologies such as AI capabilities – ultimately helping meet and exceed their customers' expectations."
Customers of the new region include postal service firm Poste Italiane, digital bank Illimity, and fashion firm BasicNet.
"Since 1995, we have identified Microsoft as an ideal partner to build our fully web-based business model, which has allowed us to quickly scale globally. We migrated to the cloud in 2015-2016 and we chose Microsoft. Today, the first cloud region in Italy is a strong and positive message for anyone with a business in our country," said Alessandro Boglione, EVP BasicNet SpA.
Microsoft is the last of the US cloud hyperscalers to launch a region in Italy. AWS launched its Milan cloud region in 2020, with Oracle's following in 2021, and Google's in 2022 (a second Italian GCP region has since launched in Turin).
More in Cloud & Hyperscale