Microsoft has signed a power purchase agreement (PPA) to procure solar energy in Canada.
The cloud company has signed a PPA with the ATCO Group, through its investment in Canadian Utilities Limited, to purchase all renewable energy generated by ATCO's Deerfoot solar facility in Calgary, Alberta.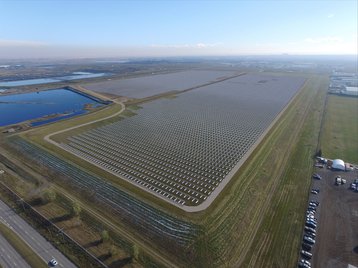 Located within the City of Calgary, the 37MW Deerfoot solar project is adjacent to ATCO's 27-MW Barlow project. Construction for both projects is set to begin later this spring, with energization in the fourth quarter of 2022.
"This agreement represents ATCO's desire to be a leader in decarbonization and enable the energy transition for our customers," said Bob Myles, EVP corporate development, ATCO. "We're very pleased to work with Microsoft to achieve our shared objectives around renewable energy. Our focus, in a transitioning world of energy is to provide energy in a safe, affordable and reliable manner."
Microsoft launched two Azure cloud regions in Canada – in Toronto and Quebec City – in 2016. The company recently filed to build another data center in Toronto on the site of a now-closed Lowes store.
"Renewable energy supply contracts like this agreement with ATCO are key to meeting our goal of contracting 100 percent of our energy consumption with renewable sources by 2025." said Kevin Peesker, President, Microsoft Canada. "This agreement with ATCO is an important step in helping Microsoft deliver on our renewable energy commitments in Canada."
Among Microsoft's rivals. Google Cloud has two Canadian cloud regions; one in Montreal and another in Toronto that opened last year.
Last November AWS announced plans to build a new Canadian cloud region in Calgary, Alberta, due to launch in late 2023/early 2024. The company its first Canadian cloud region – in Montreal, Québec, and known as Canada Central – in 2016, and launched the same year.
More in Cloud & Hyperscale