Microsoft is planning a $200 million data center site in Hoffman Estates, just outside of Chicago, Illinois.
According to plans submitted to the Hoffman Estates council, Microsoft aims to build two data centers on the 53-acre site on the north side of Lakewood Blvd in two phases; phase one would see a 250,000 sq ft (23,200 sqm) building erected, followed by a second 150,000 sq ft (14,000) building in phase two along with an electrical substation.
Building 1 construction is anticipated to take close to 18 months to complete, with the company hoping to commence construction in the second half of 2021 with completion of the first building and substation in 2022.
Register now for DCD's upcoming virtual conference on mission-critical operations, DCD>Control & Automate; 17–18 March 2021
Microsoft doubles up in Chicago area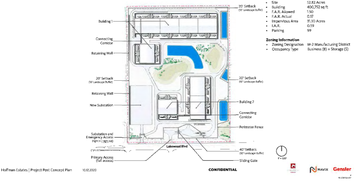 Microsoft says the project is projected to generate 280 construction jobs over multiple years and 20 permanent jobs in each building, and will be designed around existing wetland areas in order to preserve them and "maximize the natural amenities" of the site. The company is filing a request to be granted Class 6B Tax Incentives, and anticipates it will invest $200 million on the development.
A former AT&T campus, the 53-acre site was originally earmarked to become the Hoffman Technology Park and provide office, warehouse and other corporate space. However, Hoffman Technology Park, LLC sold the property in June 2020, to Microsoft Corporation. Plans for a data center on the site were first presented by Syska Hennessy in November 2020, but this is the first time Microsoft have publicly announced their involvement.
"The data center will be a welcome addition," Hoffman Estates Mayor Bill McLeod said. "They're investing a ton of money."
The Daily Herald reports that the village has been in talks with Microsoft for about two years, a process that required the signing of a confidentiality agreement.
"The board and I have to go out to aggressively seek businesses to bring to Hoffman Estates," he said. "Microsoft is a real company with real resources."
Microsoft has been active in Illinois of late. The Redmond-based company recently began constructing a $123 million data center campus in Elk Grove Village, located around 10 miles from Hoffman Estates. T5 has also expanded its presence in Elk Grove, buying a 15.4MW, 164,000 sq ft data center shell near its existing facilities last year.
Chicago was recently ranked no.2 in Cushman & Wakefield top 10 data center markets in the world.