Microsoft has begun constructing a $123 million data center campus in Elk Grove Village near Chicago.
The 37-acre plot in the Elk Grove Technology Park could eventually hold three data center buildings totaling 400,000 sq ft (37,000 sq m), supporting Microsoft's Azure and other cloud services. Microsoft bought it for $52 million in January 2020 and applied to build there in August, according to reports in Chicago's Journal & Topics news site. The Park is a $1 billion development near Chicago's O'Hare Airport, owned by Brennan Investment Group, with real estate giant CBRE as the exclusive selling agent.
Full speed ahead in Elk Grove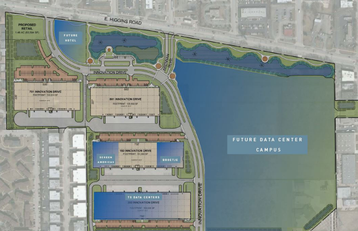 Microsoft has begun building the first data center on this site, according to construction activity seen by Journal & Topics reporter Tom Robb: "Driving down either Oakton Street or Higgins Road between Busse and Arlington Heights roads, construction crews can be seen grading and working on the preliminary base of the first Microsoft building on the campus, which takes up the majority of the east side of the Elk Grove Technology Park."
Chicago was rated the second-most attractive data center location in the world, in a list prepared by Cushman & Wakefield this year, and Elk Grove already houses five data center campuses. The 85-acre Elk Grove Technology was created in 2017, and ground was broken in 2018, for a site that is intended to hold industrial developments as well as data centers.
The Park has 30MW of power available, with another 100MW being added in the coming months. A new sub-station is due to open this, due to work supported by Microsoft, according to local reports.
Microsoft is now under pressure to deliver, according to the Journal, which has seen the permits. The first building is valued at $123 million and has already brought the village $1.5 million in permit fees. Once a permit has been granted, building work must be begun within one year and completed within a year of the start of construction. That should be no problem for a hyperscale data center, which would normally be built at a breakneck pace, but officials have told the Journal that Microsoft could have an extension, should it hit problems - as long as it's making "substantial progress".
One year ago, the Elk Grove Villager reported that Microsoft also bought a three-acre parcel of land which was once home to an Elk Grove fire station, apparently to enable the utility company ComEd to build a new substation in the South-East corner of the park. The CBRE brochure says this substation is due to open this year. The Villager says the Park includes the former Busse and is bounded by Higgins Road, Lively Boulevard, Oakton Street, and Stanley Street. Brennan also said it was putting a special emphasis on
The Park also has a data center development owned by T5, and other industrial customers including Screen Americas and Brett Anthony Foods.
Village manager Ray Rummel told the Journal, speaking of the Microsoft development: "The buildings are designed to architecturally integrate into the high-end appearance, aesthetics, landscape, and design guidelines of the Technology Park, including the screening of any outdoor equipment and one loading dock per building".