Cloud and colocation service providers opened around 15 million sq ft (1.4m sq m) of data center space in 2020, according to a report. The majority of the new capacity was bought by large cloud service providers.
The figure was boosted by the digitization boom driven by the Covid-19 pandemic, and avoided potential building delays caused by restrictions, according to the Cloud & Colocation Data Center Building Tracker from researchers Omdia. The figure for 2021 is likely to slump in the first half but bounce back to give a full year total of around 16.5 million sq ft, Omdia predicts.
For more breaking data center news, features, and opinions, be sure to subscribe to DCD's newsletter
AWS, Google, and Microsoft lead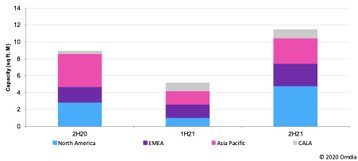 Despite restrictions to building work, Omdia reports that the world's top cloud and colocation service providers opened 7.8 million square feet of data center capacity in the first half of 2020. Provisional figures put the second half at nine million square feet, though there could be some end of year adjustment to this, for data center projects which have flowed into 2021, the report says.
Cloud providers like AWS, Google, and Microsoft led, with some 57 percent of the new capacity.
As we move into 2021, Omdia predicts a significant building slowdown, with only five million square feet of new compacity completed, but this drop will be more than compensated by 16.5 million square feet of space in the second half of 2021, assuming projects are completed as anticipated.
The APAC region has increased its share of building, with around a quarter of the capacity brought online during 2021, This is a bigger share than the region made in 2019 or 2018, Omdia observes.
"Cloud and colocation service providers have been benefactors of increased SaaS and network customer demand from the pandemic response necessitating remote working and educating," said Alan Howard, principal analyst in the cloud and data center research practice at Omdia. "These services are particularly recession-resistant and demand for services has been increasing, which translates to data center construction projects remaining in progress to assure they can meet demand.
"Many service providers have said that non-critical data center projects could be delayed, but as far as data centers go in this market, we don't see many non-critical projects. In fact, if you look at just Amazon, Google and Microsoft, collectively they have announced 28 new regions, most with multiple zones."
Omdia was formed last year from the merger of IHS Markit and Ovum, both owned by Informa Tech.