More than 100 new hyperscale data center facilities were built in 2020, taking the total number to almost 600, according to a new report from Synergy Research Group.
The research firm found that the total number of large data centers operated by hyperscale providers increased to 597 at the end of 2020, and has more than doubled since 2015. Synergy reported 430 hyperscale facilities in 2018, which grew to 500 in 2019.
Amazon, Microsoft, and Google collectively account for over half of all major data centers, and continue to be significant drivers of growth. Amazon and Google opened the most new data centers in the last twelve months, accounting for half of the 2020 additions. Synergy added that Oracle, Microsoft, Alibaba, and Facebook were also active last year.
"There were 111 new hyperscale data centers opened in the last eight quarters, with 52 of those coming on-stream in 2020 despite Covid-19 causing a few logistical issues," said John Dinsdale, a chief analyst at Synergy Research Group. "That is testament to the ongoing robust growth in the digital services that are driving those investments – particularly cloud computing, SaaS, e-commerce, gaming, and video services."
Register now for DCD's event on the role data operators will play in the future energy ecosystem
US leads for hyperscale facilities, with hundreds more coming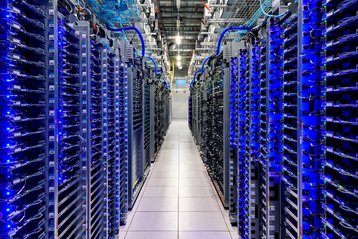 As has been the case for a number of years, the US remains the home of hyperscale, accounting for 39 percent of facilities and equal to the next eight countries combined. China houses 10 percent of the world's hyperscale sites, followed by Japan, Germany, the UK, Australia, Canada, India, and Singapore.
The research is based on an analysis of the data center footprint of 20 of the world's major cloud and Internet service firms. Synergy found Amazon, Microsoft, Google, and IBM each have 60 or more data center locations across North America, APAC, EMEA, and Latin America, with Oracle and Alibaba also have a global data center presence. Many of the firms in the study focus their locations primarily in the US (Apple, Facebook, Twitter, eBay) or China (Tencent, Baidu, JD.com).
"We did actually see a handful of older hyperscale data centers shut down in 2020," said Dinsdale, "but those numbers pale beside the number of newly opened or planned sites. In addition to almost 600 operational data centers, we have visibility of a further 219 that are at various stages of planning or building, which is good news indeed for data center hardware vendors and wholesale data center operators."
Synergy reports that over 70 percent of all hyperscale data centers are located in facilities that are leased from data center operators or are owned by partners of the hyperscale operators. A recent report from North American Data Center found that just under just under 700MW was leased in the US in 2020, with Microsoft being the largest driver.
This week AWS and Google were amongst a group of 26 cloud and data center operators to pledge to become climate neutral by 2030.