Meta has signed a power purchase agreement (PPA) with oil and gas company BP to procure renewable energy from an upcoming solar farm in Ohio.
The 134MWdc (107MWac) Arche Solar project in Fulton County' Gorham Township is now under construction. The 675-acre site is set to go live in early 2024, and all the power is set to go to the social media firm.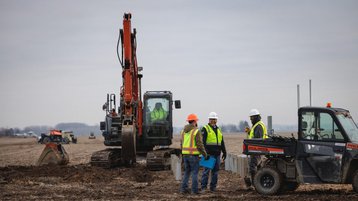 Urvi Parekh, head of renewable energy at Meta, said: "We appreciate BP's partnership in helping keep our commitment to supporting our global operations with 100 percent renewable energy. In addition to adding new energy to the grid, we are proud that this project will bring additional jobs and investment to Ohio."
BP America chairman and president Dave Lawler added: "This agreement shows how companies can create jobs, invest in the US economy, and at the same time support net zero ambitions and help the world reduce carbon emissions. It's another example of BP partnering to accelerate change and becoming an integrated energy company – one that can help corporations, countries and cities decarbonize."
BP's 50:50 joint-venture partner and subsidiary Lightsource BP developed the project on behalf of BP and is managing construction.
McCarthy Building Companies' Renewable Energy & Storage team was selected as the main contractor for the project, which will include the installation of ultra-low carbon solar panels and smart solar trackers from US-based manufacturers First Solar and Nextracker, respectively.
Meta operates an Ohio data center campus in New Albany. Work started on the site in 2017, with the campus launching in 2020. In April 2022. the company announced an expansion that will see two buildings added to the site totaling around 1 million square feet (92,900 sqm). It is unclear if this site has been affected by the company's recent pausing of projects.
It has invested in one other solar farm in the state; the 150MW Hardin Solar farm in Hardin County owned by Dominion Energy.
Founded in the UK in 2010, BP acquired a 43 percent stake in Lightsource Renewable Energy by investing $200 million, with the company renamed to Lightsource BP. The oil giant then upped its stake to 50 percent in 2019. The company has previously signed PPAs with eBay and Verizon.