Philippine construction company Megawide Construction Corp. has partnered with Singapore's Evolution Data Centres for both companies' maiden data center project.
In a series of announcements on the Philippine Stock Exchange this week, Megawide announced it had signed a shareholder's agreement with several Evolution Data Centres entities to 'acquire, develop, build, and/or operate center assets in the Philippines.'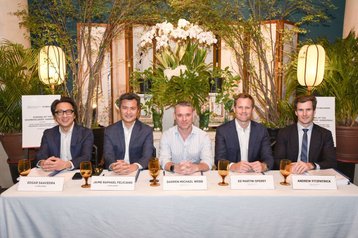 The $300 million agreement includes the long-term development of a 69MW colocation data center in Cavite. The company said Phase 1 will feature a 23MW deployment spread over five years inside a four-hectare property.
"Megawide is very excited about this venture because it represents the company's first investment in the digital infrastructure space. While we have focused on transport and social infrastructure in recent years, current technological advances have significantly changed everyday life. Digitalization has greatly affected enterprises and consumers alike and data centers are at the very core of this new reality," said Jaime Feliciano, Megawide's chief business development officer.
As part of the deal, two new joint ventures known as OpCo and LandCo will be set up to hold the project. Megawide is expected to own approximately 49 percent of OpCo and 60 percent of LandCo.
Cavite province is located to the south of Manila. A number of firms are developing data centers in the neighboring Laguna province.
Founded in 1997 and part of Citicore Holdings Investment Inc, Megawide is an engineering and infrastructure firm with a portfolio in engineering, procurement, construction, and transport-oriented infrastructure.
The company first announced plans to move into the data center space in September 2022, saying it aimed to focus on building "pandemic resilient" infrastructure assets in the next three to five years. Last month it was revealed Megawide was aiming to develop a 30MW facility in Cavite.
Founded in 2021 and headquartered in Singapore, Evolution last year received backing from Warburg Pincus. This marks the company's first data center announcement, though it has been quoted in the Straits Times discussing Batam's suitability for data centers.
Evolution CEO Darren Webb was previously the MD for Asia for IO Data Centres. Co-founder Ed Martin-Sperry was previously Head of Asian TMT Investment Banking at ING.
"Rising data consumption and strong governmental support for digital transformation are causing hyper-scalers and cloud service providers to consider the Philippines as they expand their operations. We are delighted to be partnering with Megawide to develop this innovative data center in this exciting high-growth region," said CEO Webb.