A large solar farm is being proposed on the site of a former coal-mining plant in New York state, alongside a previously announced data center.
sPower, a green energy developer headquartered in Salt Lake City, has informed the town of its interest in a solar project surrounding the dormant Somerset Operating Co. plant in Somerset, New York. A previously announced data center on the site is still going ahead.
Buffalo News reports the 140-175MW solar project would cover about 900 acres on both sides of the Lake Road plant, also known as the Kintigh Generating Station. The company would have a 30-year lease on the property, now owned by Beowulf Energy and its Somerset Operating Co. subsidiary, according to Michael Farrell, senior development manager for AES Clean Energy.
Solar where once there was coal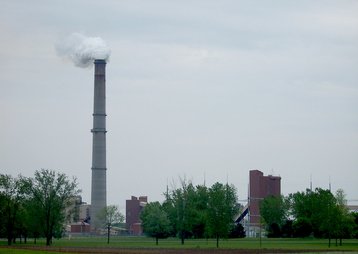 Built in 1984, the 675MW coal-burning plant sits on a 1,800-acre parcel and closed last year.
Last year sPower merged with AES Corporation's clean energy business in the US, which previously owned the plant through a subsidiary. No formal application for the solar farm has yet been made, but will be filed later in the year with construction starting in late 2022 and due for completion in December 2023, should it be approved.
In July 2019, plant owner Riesling Power LLC and subsidiary Beowulf Energy LLC filed plans for a 250MW data center on the site alongside a 100MW facility in Cayuga, New York on the site of another coal plant. The plans were called the Empire State Data Hub initiative, and would be partly powered by hydroelectricity and partly by 70MW and 20MW solar farms in Somerset and Cayuga respectively.
The New York Power Authority has allocated 100MW of electricity for a data center on the site, and the development is still going ahead.
"The data center is moving forward," an NYPA spokesman told Buffalo News.
Last year Beowulf formed a joint venture with Bitcoin mining company Marathon Patent Group to build a 37MW data center at the company's 119MW Hardin Generating Station in Big Horn County, Montana.