Global Technical Realty (GTR) has broken ground on its 40.5MW UK data center campus in Slough outside London, its first development.
When complete, the campus will comprise three 13.5MW, 5,400 sq m (58,000 sq ft) data centers capable of operating individually, or as one interlinked facility. GTR said it is leasing the GB One site at the Slough Trading Estate from SEGRO, which will be developing the building shell.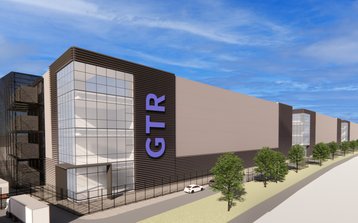 "The data center sector is experiencing phenomenal growth and is evolving at a rate we've never seen before, said Franek Sodzawiczny, Founder and CEO at Global Technical Realty. "GTR is in the unique position of having an equity capital commitment with KKR's third global infrastructure fund. This gives us the flexibility to not only fund projects rapidly but to also offer continuity of support to our customers across multiple facilities and locations. We are motivated to get our first UK data center up and operational and are delighted to be partnering with SEGRO to help achieve this."
In May 2020 KKR announced it was committing $1 billion to set up a new hyperscale data center player in Europe. KKR & GTR subsequently announced plans for the Slough campus in June 2021.
Sodzawiczny, the founding CEO, previously founded two British data center colocation providers - Sentrum, which was sold to Digital Realty for around $1 billion in 2012, and Zenium, which sold to CyrusOne for $442 million in 2017. Partners in the new venture include established data center builder Mercury Engineering.
James Craddock, SEGRO's Managing Director for Thames Valley, added: "Over the last 100 years Slough Trading Estate has evolved in terms of the customers based there. Data centers are part of the latest evolution, breathing new life into the estate alongside some of our more traditional customer base. Our data center team is looking forward to using its unrivaled sector experience to work with GTR to create this state-of-the-art facility at Slough Trading Estate.
GTR & KKR are also developing an underground data center in Israel. The 10.5MW, 4,800 square meters (51,700 sq ft) data center in Petah Tikva is expected to be fully operational by Q2 2023. The company said alongside debt financing, KKR's equity commitment is also expected to support more than $2.5 billion of asset development and investment.
Beyond GTR, KKR recently acquired CyrusOne alongside Global Infrastructure Partners for $15 billion. The investment firm is also bidding to acquire TIM/Telecom Italia for around $12bn – and is thought to be bringing Saudi Arabia Public Investment Fund (PIF) in to join the bid. The firm is also rumored to be amongst potential suitors for Global Switch.