Singaporean data center real estate investment trust Keppel DC REIT has acquired two data centers in Guangdong, China.
The company announced this week that it had entered into agreements with Guangdong Bluesea Data Development Co. Ltd. and its parent company, Guangdong Bluesea Mobile Development Co. Ltd., to acquire two data centers in Jiangmen, Guangdong Province, for RMB 1,380.6 million (~US$206m).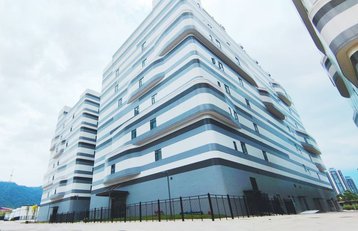 The two seven-story data centers have a combined gross floor area of approximately 40,920 sqm (440,462 sq ft), and will be named Guangdong Data Centre 2 and Guangdong Data Centre 3 (Guangdong DC 2 and Guangdong DC 3). Guangdong DC 2 is already fully-fitted, while full fit out of Guangdong DC 3 is expected by Q3 of 2023.
The properties will be leased to Bluesea on a triple net basis for 15 years. The acquisition for Guangdong DC 2 is expected to be completed in the second half of 2022, while the acquisition for Guangdong DC 3 is expected to be completed by the third quarter of 2023; the deals will be funded with a mix of debt, equity, and/or existing cash.
Anthea Lee, CEO of Keppel DC REIT Management Pte. Ltd. said: "Data centers are a critical part of the digital infrastructure that supports many other industries and growth areas. The acquisition will increase the number of data centers in the portfolio that are leased on a master leased basis resulting in higher portfolio weighted average lease expiry and occupancy."
At the closing of the acquisitions, Keppel DC REIT will have a portfolio of 23 data centers across Asia Pacific and Europe, three of which are in China.
Keppel DC REIT acquired its first Chinese data center, also from Bluesea, in July 2021. As with today's deal, the seven-story, 20,595 sqm (221,689 sq ft) property is leased to Bluesea on a triple net basis for 15 years. The facility was the first of six data center buildings to be completed within the Bluesea Intelligence Valley Mega Data Centre Campus; as part of the deal, Keppel DC REIT was granted the right of first refusal to acquire the remaining five facilities within the campus.
2021 saw Keppel DC REIT acquire data centers in Eindhoven, the Netherlands, and Guangdong, China. It also sold a data center in Brisbane, Australia. Earlier this year the company acquired a Vodafone-occupied data center outside London.