IXAfrica has broken ground on an 18MW data center in Nairobi, Kenya.
The company hopes to build out the campus to 42.5MW of IT load in the coming years, developing on adjacent plots to the 17,000 sq m (183,000 sq ft) site.
The data center will be IXAfrica's first after years of delays and is on track to be East Africa's largest 'hyperscale-ready' campus.
A new data center in East Africa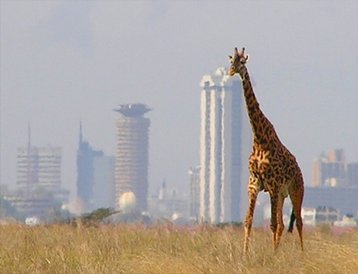 IXAfrica chairman Guy Willner told DCD that the company is independent from the similarly-named Russian-focused colo IXcellerate, but he is involved in both companies.
"The only link is that I am a shareholder and co-founder in both, and that [former Equinix VP] Frank Hassett is advising both."
Willner previously founded IXEurope, which was sold to Equinix for £270m in 2007.
The last time DCD reported on IXAfrica was way back in 2013, at which point the company said it had been working on building a Nairobi data center for more than two years. Construction was expected to begin "imminently," but soon hit delays.
"It took a long time to evaluate the market and get investment and then about three years to find a clean and appropriate piece of land," Willner explained. "Emerging markets require patience."
Now, work has begun in earnest. "Finally the JCBs are onsite," he said. In 2013, shareholders in South African data center company Teraco were also involved with IXAfrica, but that is no longer the case.
The company said that it is evaluating sustainability solutions, including cool wall technology, solar, and "a number of city initiatives." The facility was designed in collaboration with architect firm Future-Tech.
The data center will feature on-campus offices for new businesses and hopes to win the custom of enterprises, governments, and hyperscalers. "We are already in discussion with a number of major international Internet companies who have up to now been eyeing the market but who have been frustrated through the lack of credible data center capacity here," said Niraj Shah, VP sales and business development at IXAfrica.
Willner's other company IXcellerate also announced a large expansion in Moscow this month. "[Working in] Russia and Africa has been similar – investors prefer to keep their money in West Europe/US so raising start-up equity is super hard, then everyone wants to invest once you've proven the model," he said.
He added that Africa offered "no possibility of pre-lets due to local market experience where forecasting exact delays can be tough," but said that there was "less international competition and great local talent."
A recent report from The African Data Centres Association (ADCA) and Xalam Analytics claimed Africa needs 1,000MW and 700 facilities to meet growing demand and bring the rest of the continent onto level terms with the capacity and density of South Africa.