Wingu.Africa has broken ground on a hyperscale data center in Addis Ababa, Ethiopia on Monday 11 January.
The pan-African data center operator aims to establish Ethiopia's first-ever carrier-neutral hyperscale data center park, located in the Ethio ICT Park, Addis Ababa, Ethiopia. The company also plans a second facility in Adama City, 60 miles (96km) to the southeast of the capital.
Details of the facility are yet to be shared but will be located on 161,500 sq ft (15,000 sq m) of land at the ICT Park which the company says will allow it to deliver flexible solutions to customers and provide secure and fortified server hosting for companies including content delivery networks, cloud, and financial services.
Ethiopia's data center market is accelerating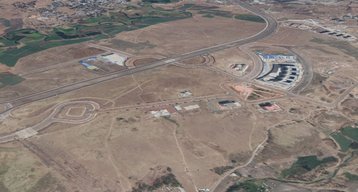 "We are delighted to be part of Ethiopia's ICT development with our new hyperscale data centers," said Wingu.Africa's co-founder and CEO Anthony Voscarides.
"Ethiopia represents a natural extension of our group's other facilities, and we are delighted to be the first to break ground with a plan to launch commercial service later this year."
"Our commitment to Ethiopia is to provide a safe, secure, and stable platform for the many talented Ethiopians, including young entrepreneurs with vision and ambition. Wingu.Africa is also committed to developing the sector and contributing to the country with incentives and social programs."
Wingu currently has facilities in Djibouti City, Djibouti; and Nairobi, Kenya. As well as the Ethiopia facilities and expanding its Nairobi location, the company says it has plans for additional data centers in Zambia, Tanzania, Mozambique, and Uganda.
Three additional companies in Raxio, Red Fox Web Solution, and ScutiX are also due to build facilities at the Ethio ICT Park. RedFox has reportedly acquired a 43,000 sq ft (4,000 sq m) plot, and ScutiX has picked u 68,900 sq ft (6,400 sq m). Raxio aims to build Ethiopa's first private uptime certified Tier III colocation data center at the park, which will reportedly accommodate an initial IT capacity of 1.5MW with the potential to double capacity up to 3MW.