Iron Mountain is buying a 10MW Frankfurt data center from Singapore-based Keppel for $90 million (€76m).
The 10MW facility, known as Keppel DC FRA1, was announced in 2016 and opened in 2018. It was owned jointly by two Keppel subsidiaries, and combines 2.6MW of leased capacity and 8MW of capacity for retail colocation customers.
By coincidence, the €76 million Iron Mountain is paying is the same price Keppel paid to buy into the project in 2016.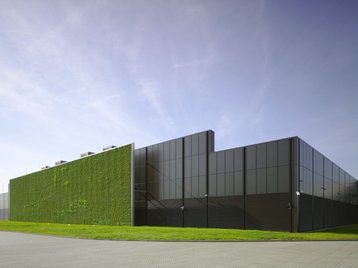 Frankfurt transfer
Frankfurt is one of the major data center hubs in Europe, and demand there is so steep that the local authorities have recently stepped in to propose regulations which would limit and control data center growth. Iron Mountain already has one 27 megawatt facility in Frankfurt (FRA-1) which is leased to one unnamed customer, and says this purchase will expand its team in the city.
Keppel DC FRA1 is a two-story 20,000 sq m building on freehold land in the Am Martinszehnten Industrial Park, close to the city center and Frankfurt Airport.
As well as the current 10.6MW, the building can be expanded for Edge computing at the premises, says Iron Mountain. It is connected to multiple networks and has access to the DE-CIX exchange
"This latest investment in one of the most sought-after European markets further solidifies our commitment to invest in the global markets where our customers need us," said Mark Kidd, executive vice president and general manager of data centers at Iron Mountain. "As a leading global data center provider, we are pleased to continue to meet the key growth milestones that this acquisition, and the recently announced expansion in London, represent."
Earlier in 2021, Iron Mountain has announced a new 27 megawatt data center build in London (LON-2), and will also add another 9MW of capacity at the LON-1 data center.
More recently, to raise money to fund expansion like this, Iron Mountain sold five facilities in the greater London area to Intermediate Capital Group (ICG) for $178 million, remaining in the buildings as a tenant.
"We are thrilled to be adding an additional data center in Frankfurt to our global platform," said Eric Boonstra, vice president, and general manager, Europe at Iron Mountain.
In detail, Keppel is known for the complexity of the Keppel subsidiaries involved in any deal, and this one is no exception. The Frankfurt data center was originally owned by a joint venture between Keppel Data Centres Holding Pte. Ltd. (KDCH), and Alpha Data Centre Fund, managed by Alpha Investment Partners Limited - a wholly-owned subsidiary of Keppel Capital Holdings Pte. Ltd. (Keppel Capital).
Four years on, Iron Mountain is in fact buying it from another Keppel-owned company, as Keppel has created another subsidiary, Calcium DC, which is a 60-40 joint venture between the previous two subsidiaries, Alpha DC Fund and KDCH.
Keppel fans will be pleased to know it doesn't stop there: the divestment release from Keppel mentions another two Keppel subsidiaries, Graphite (DC) BV, and Keppel Vector (DC) GmbH. We don't know what their role was.
The deal is expected to complete in 90 days.