Interxion has switched on a €15 million ($17m) river water cooling system in Marseille, France, which it says will save up to 18,400MWh of energy per year.
Interxion's MRS2 and MRS3 are being cooled by underground water diverted from a former mine, through 3km of buried pipework, resulting in a power usage effectiveness (PUE) of 1.2.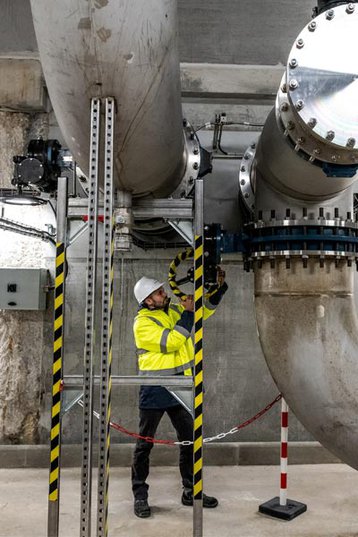 MRS4, due to open in Q2 2022, will also use the river cooling system.
Deep waters run cool
Interxion, Digital Realty's European subsidiary, has been developing a strong presence in Marseille for some time, due to its position as a gateway to fiber links across to Africa and the Middle East. Its recently opened third data center there, MRS3, is in a converted WW2 submarine base.
The company has spoken before of its liquid cooling ambitions for the site, which are based on its proximity to a decommissioned coal mine. Wastewater from that mine was "traditionally pumped into the river and out to sea," Digital's director of sustainability Aaron Binkley told DCD in 2020. Instead, it is being "piped to our Marseille data center campus, and it's being used as a chilled water source to limit cooling energy needs. It's helping to make the facility more efficient by getting free cooling out of what is a wastewater stream."
The system makes use of 'La Galerie de la Mer', a long tunnel created between 1885 to 1907, from the mining towns of Biver and Gerard in Gardane, which removed water from the Biver and Gerard mines to the Mediterranean Sea near Marseille. As well as a 550mm water pipe, the tunnel also has a railway track and was once used to transport coal to Marseille.
The cooling system took two and a half years to build and involved the construction of three kilometers of new buried pipework to divert the underground water from a pumping station in the Galerie to the facilities, along with 27 heat exchangers at the data centers themselves that use the 15C temperature of the underground water for cooling.
Interxion says this will save up to 18,400MWh of energy per year, mitigating the equivalent of 795 tons of CO2, and allowing Interxion's Marseille data centers to dispense with electric chillers.
The piping system will also be developed so that the hot water output can be fed into the Euromediterranée urban heating network which connects 500,000 sq m of offices and homes, making this a circular economy project. 
"In addition to seeking local resources for cooling our data centers, we are systematically studying the availability of the calories emitted by our data centers for district heating purposes. River cooling is therefore a successful example of innovation and circular integration in its territory. As a result, this project has received technical and financial support from Ademe (French Environment and Energy Management Agency) and the South Region, who we would like to thank", said Linda Lescuyer, energy director at Interxion France.
Fabrice Coquio, Managing Director, Interxion France. said: "The river cooling solution reflects our strong desire to support the development of the digital economy while minimizing the impact of our data centers on the environment. How do we do this? By providing the eco-responsible data centers that our customers, investors, employees, and citizens expect. This innovation provides our customers with a solution that is 30 times more energy-efficient than traditional cooling systems, enabling them to reduce the carbon footprint of their data centers at Interxion and meet their CSR objectives."
The solution was designed by Interxion, Dalkia Smart Building, and EDF Group with the support of Cap Ingelec, Largier Technologies, Schneider Electric, and Victaulic.
Interxion has put a demo of the system online, along with this video.