Equinix has improved the energy efficiency of its FR6 data center in Frankfurt, Germany, with the use of artificial intelligence.
The colo giant has managed to increase the data center's energy efficiency by nine percent, using an AI-based cooling solution from energy intelligence startup Etalytics. The Etalytics software reportedly also brought the PUE of FR6 closer to 1.2, and is anticipated to reduce its energy consumption by 900MWh per year.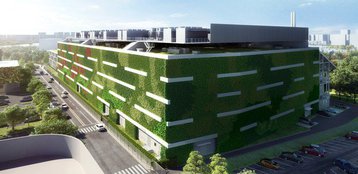 Following this success, Equinix intends to integrate the AI software at nearly all of its Frankfurt-based IBX data centers, including FR4, FR6, FR8, and FR2.6.
Equinix and Etalytics began working together in 2020. The AI software enables companies to reduce the energy consumption of cooling systems by regulating them and making the system more efficient.
The Etalytics software models the operating characteristics of the cooling system using telemetry data and creates a digital twin. This can then be used to "dynamically calculate" optimum operating strategies in real-time while taking into consideration influencing factors such as temperature, humidity, and cooling requirements.
"This is a promising example of the positive impact that digitalization and new technologies such as AI can have on energy efficiency in the data center industry. We are particularly pleased to have received the prestigious Energy Efficiency Award from DENA for our energy efficiency, as data center providers are often perceived rather contrarily in this respect," said Jens-Peter Feidner, managing director of Equinix Germany.
"The implementation of such solutions is another crucial building block in achieving climate neutrality, also against the backdrop of the very ambitious efficiency targets of the new German Energy Efficiency Act.
"Together with the rest of the industry and with innovative partners, we are continuing to work on becoming even more efficient and sustainable and look forward to a lively exchange with politicians on how this can be implemented without curtailing digitalization in Germany."
Etalytics was founded in 2020 out of the Energy Technologies and Applications in Production research group at the PTW Institute at TU Darmstadt. The software can be used also in the chemical, pharmaceutical, and automotive industries.