PCCW Global's Pakistan and East Africa Connecting Europe (PEACE) submarine cable will use Interxion's Marseille MRS2 data center for its landing station architecture.
PCCW announced the news that the cable will use the MRS2 data center for its termination and interconnection equipment, rather than a traditional landing station, last week.
"Selecting the right data center in Europe for the PEACE subsea cable to interconnect with is a critical component to ensure the project's commercial success. We know that with Interxion we have made the right strategic decision," adds Sun Xiaohua, COO of the PEACE Cable International Network Co. Ltd.
Running South from Pakistan to Kenya and the Seychelles with plans to land in South Africa, and then up north through the Mediterranean into France, the PEACE cable is 15,000km (9,320mi) long and capable of a transmitting capacity of 16Tbps per fiber pair. Development began in 2017 and aims to offer a low latency route from Asia into Africa & Europe, landing at Pakistan, Djibouti, Egypt, Kenya, and France. The cable is due to go live for commercial use in 2021.
Marseille's a key location for Europe's subsea cables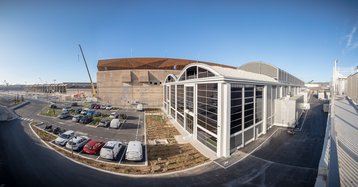 Strategically located on the Mediterranean in the south of France, Marseille is becoming an increasingly important interconnect location in Europe. The region has direct access to 14 submarine cables – PEACE will be the 15th – connecting cloud and digital media users across Europe, Africa, the Middle East, and Asia.
"This collaboration with PEACE and PCCW Global not only solidifies Marseille's future as an intercontinental hub with access to state-of-the-art communication services, but also affords Interxion's global customer base entry into new markets and the ability to connect their often geographically dispersed infrastructure in close proximity to the connected community via PlatformDIGITAL," says Mike Hollands, Senior Director, Market Development at Interxion.
"The PEACE cable is well placed to meet the burgeoning exchange of data and video traffic between Europe, Africa, and Asia, enabling enterprises to extend their global workflows and efficiently execute their digital transformation strategies."
Digital Reality-owned Interaxion has three data centers in Marseille, the most recent facility a former WWII Nazi submarine base opened in July 2020. MRS2, where the PEACE cable will land, is a 47,360 sq ft (4,400 sq m) facility with a maximum load capacity of 7MW built inside former naval workshops in the industrial port area of the city and opened in 2018. Digital Reality bought Interxion, then Europe's largest colocation provider, in 2019 for $8.4 billion.