Colocation provider Interxion has opened the first phase of MRS2, its second data center in the ancient Phocaean city of Marseille.
Built inside former naval workshops in the industrial port area, known as the Port of Marseille Fos, the data center is opening with 700 square meters (7,535 sq ft) of technical space. The second stage of construction, due for completion at the end of 2019, will more than double the facility's equipped floor space to 1,900 square meters (20,450 sq ft).
Exchanging goods, and data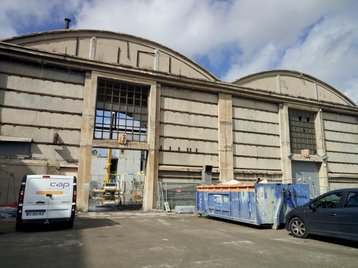 Ultimately, the data center will provide 4,400 square meters (47,360 sq ft) of white space with a maximum load capacity of 7MW. The company expects the facility to cost a total of €76m ($89.69m).
CEO David Ruberg called the launch "an important step for Interxion in developing Marseille as a digital hub." Fabrice Coquio, Interxion France's managing director, added that "the number of telecom providers in Marseille is growing with the arrival of cloud and digital media platforms, confirming Marseille not only as a connectivity hub but as a content hub."
The company launched its first data center in Marseille in 2014, when it purchased French telecoms provider SFR's Netcenter. But, at the time of DCD's visit to the premises in March 2018, MRS1 only had 47 square meters (500 sq ft) of available white space remaining, testifying to a pressing demand for additional capacity.
Interxion's ambition to develop its presence in Marseille doesn't stop here: the company recently set the process in motion to build a third, significantly larger facility across the road from MRS2, in a WWII-era submarine base.
Marseille is France's second largest city. Considering its location and historical status, is has long been a prime location for material exchanges. And now, the city hopes to build on this experience to develop its digital economy.
To a certain extent, this is already happening: 13 submarine telecommunications cables have their landing points in the city, a majority of them built in the past five years to connect Europe with the Middle East, Africa and Asia. This has gradually attracted the attention of telecoms, cloud providers and internet exchanges.