IBM is to build a data center to host quantum computers in Germany.
The company this week announced plans to open its first Europe-based quantum data center at the IBM campus in Ehningen near Stuttgart to facilitate access to cutting-edge quantum computing for companies, research institutions, and government agencies.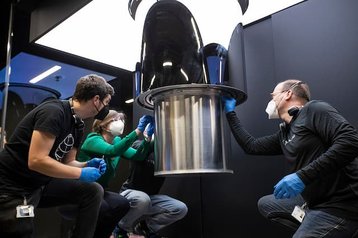 The data center is expected to be operational in 2024 and set to host multiple IBM quantum computing systems, each with "utility-scale quantum processors" of more than 100 qubits.
IBM said the new European region will help companies research quantum computing while adhering to European data regulations.
"Europe has some of the world's most advanced users of quantum computers, and interest is only accelerating with the era of utility scale quantum processors," said Jay Gambetta, IBM fellow and VP of IBM Quantum. "The planned quantum data center and associated cloud region will give European users a new option as they seek to tap the power of quantum computing in an effort to solve some of the world's most challenging problems."
Ana Paula Assis, IBM General Manager for EMEA, added: "Our quantum data center in Europe is an integral piece of our global endeavor. It will provide new opportunities for our clients to collaborate side-by-side with our scientists in Europe, as well as their own clients, as they explore how best to apply quantum in their industry."
The facility will be IBM's second quantum data center and quantum cloud region, after Poughkeepsie, New York. IBM offers access to its fleet of more than 20 quantum computers through the IBM Quantum Network.
IBM's Quantum Network currently has more than 60 organizations across Europe accessing quantum hardware and software via the cloud, including Bosch; Crédit Mutuel Alliance Fédérale, Targobank, CERN, Fraunhofer-Gesellschaft, Poznan Supercomputing, and Networking Center, and T-Systems.
"We are happy and proud to support the IBM Quantum team's decision to set up their European quantum data center in Ehningen, Germany," said Dr. Raoul Klingner, director of research, Fraunhofer-Gesellschaft. "The choice of location in the state of Baden-Wurttemberg will further strengthen the ecosystem that Fraunhofer has built with customers and partners from industry and research. We are pleased to further continue our strategic partnership with IBM."
Adel Al-Saleh, chief executive of T-Systems, added: "At T-Systems, we are collaborating with IBM to combine quantum and classical computing in a seamless and scalable experience for our customers to explore applications of quantum computing. Having access to a quantum data center dedicated to Europe will help lower the access barrier for our customers as they decide on how to take their first, decisive steps in exploring and using quantum."
IBM also offers on-premise or dedicated hosted quantum systems for customers. The company has deployed an on-premise system at US healthcare provider Cleveland Clinic's HQ in Cleveland, Ohio, and at the Fraunhofer Society's facility outside Stuttgart, Germany.
More on-premise/hosted deployments are planned or have been deployed in Spain, Canada, Japan, and South Korea.
IBM's most advanced processor is currently the IBM Osprey, a 433-qubit processor. The company expects to launch the 1,121-qubit single-gate Condor and the 133-qubit two-qubit gate-design Heron by the end of this year. By 2025, it hopes to develop a 4,000+ qubit processor built with multiple clusters of modularly scaled processors.
IBM, alongside Google, recently announced a $100 million, 10-year partnership with the University of Tokyo and the University of Chicago to develop technologies that will enable a 100,000-Qubit quantum computer.
"Over the past several years, IBM has been at the forefront of introducing quantum technology to the world," said Arvind Krishna, chairman and CEO, IBM. "We have achieved significant progress along our roadmap and mission to globally establish useful quantum technology, so much so that we can now, with our partners, truly begin to explore and develop a new class of supercomputing anchored by quantum."
In other recent quantum news:
- Nvidia plans to build a new lab with the Jülich Supercomputing Centre (JSC) at Forschungszentrum Jülich (FZJ) that will feature a classical-quantum supercomputer in partnership with ParTec AG, Munich, based on Nvidia's quantum computing platform.
- Chinese company SpinQ Technology claims to be offering the first portable desktop quantum computers. The company is offering the 2-qubit Gemini, Gemini Mini, and Mini Pro, and the 3-qubit Triangulum and Triangulum Mini. Prices start at more than $8,000 to more than $56,000.
Founded in 2018, Shenzen-based SpinQ also offers access to its quantum systems via its Taurus cloud, offering up to 8-qubit systems.
- China Telecom has invested 3 billion yuan ($434 million) to establish a new quantum unit, China Telecom Quantum Information Technology Group Co. The new entity, based in the eastern Anhui province, will focus on developing quantum technology, the company said.