IBM is partnering with Fundación Ikerbasque to deploy a quantum computer at the campus in San Sebastián in the Spanish Basque Country.
The company expects to launch the IBM-Euskadi Quantum Computational Center by the end of 2024. It will provide Qiskit Runtime services from an on-premise 127-qubit IBM Quantum System One and will be located in the San Sebastian main campus of Ikerbasque (the Basque Foundation for Science).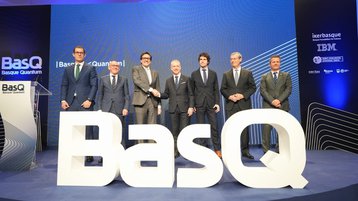 "The IBM-Euskadi Quantum Computational Center is further proof of our commitment in building open communities of innovation to tackle the most challenging problems of our time," said Dr. Darío Gil, senior VP and director of research at IBM. "This partnership will bring to bear the full scope of IBM's quantum technologies to the Basque Country's world-class scientific and industrial communities. We are proud to be working with the Government of The Basque Country, as well as private sector and academic partners, to take innovation in Spain to the next level."
The quantum computing center will focus on areas in science and technology, including materials research, physics, and information science. The partnership will help further the Basque Country Government's Ikur 2030 vision which aims to advance quantum research.
"It is very risky to say what the future of quantum computers will bring us. Nobody knows for sure. What we do know for sure is that the Basque Country must be prepared for the future," said the president of the Basque Country Government, Inigo Urkullu.
"It is essential to be in a good starting position for when the situation requires it. Euskadi joins today, a select group of IBM Quantum Computational Centers. We will actively collaborate with this Network and we will contribute all our knowledge to continue developing this technology. IBM's commitment to the Basque Country reflects a new recognition of our science, technology, and innovation system. The Basque Country believes in science and invests in it."
The quantum computer will be deployed at the Ikerbasque building located in San Sebastian and managed by IBM.
The IBM-Euskadi Quantum Computation Center marks the second in Europe, with another at the Fraunhofer Society in Germany. IBM has also launched a quantum computer at the Cleveland Clinic in Ohio, USA, and last year announced plans to deploy another at IBM's Bromont facility in Quebec, Canada. The company is currently working on a 4,000+ qubit quantum processor, intending to have it ready by 2025.
In total, IBM has deployed more than 60 quantum computers for external use since 2016.