Honda has deployed a hydrogen fuel cell system for data center backup at its facility in California.
The automotive company last week announced the operation of a stationary fuel cell power station at its corporate campus in Torrance, California.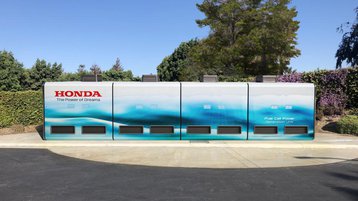 "Now fully operational as a demonstration program, Honda's fuel cell power station supplies clean and quiet emergency backup power to the data center on the campus of American Honda Motor Co., Inc," the company said. "In the coming years, Honda will begin applying a next-generation stationary fuel cell system to Honda manufacturing facilities and data centers globally, thereby reducing the company's greenhouse gas emissions."
The fuel cell unit has a capacity of approximately 500kW and reuses the fuel cell systems of previously leased Honda Clarity Fuel Cell vehicles, with a design that allows the output to increase every 250kW packaged with four fuel cells. The deployment will act as a proof of concept for future commercialization efforts.
The company, which first announced the project in March 2022, said the unit's layout is adaptable to suit the installation environment and to accommodate cubic, L-shaped, Z-shaped, and other packaging configurations.
"We believe there's great promise in hydrogen fuel cells for backup power and offsetting potential peak power events," said Koji Moriyama, project lead of the stationary fuel cell and principal engineer with American Honda's R&D business unit. "By installing and utilizing our core technology, the fuel cell system, in various applications such as stationary power generation, Honda aims to stimulate hydrogen usage and provide clean energy for potential commercial customers."
While the current unit reuses old cells, Honda said future deployments intended for commercialization will utilize Honda's 'next-generation' fuel system jointly developed with General Motors, which is set to be deployed in future Honda vehicles from 2024.
While some companies are looking to biodiesels such as HVO to green existing backup generator deployments, other companies are looking at fuel cells for more sustainable backup, and in some cases, as a primary power source. Companies including AWS, Microsoft, Equinix, Nxtra, GDS, Teledata, and NorthC are exploring fuel cell deployments.
Toyota is another automotive firm also looking at fuel cell development.