Google services including Gmail, YouTube, Google Drive, Google Docs, and Analytics have gone down in a widespread outage.
The company's eponymous search engine remains online, and its cloud service currently reports no issues.
Update: YouTube can be accessed if a user is not signed in, pointing to the issue being with Google accounts authentication.
Update 2: As of 12:30 UTC, some users are reporting that services are beginning to return but are still rather buggy. As of 12:52, Google claims most users should now be able to access Gmail.
"Today, at 3.47 a.m. PT Google experienced an authentication system outage for approximately 45 minutes due to an internal storage quota issue," the company said in a statement.
"Services requiring users to log in experienced high error rates during this period. The authentication system issue was resolved at 4:32 a.m. PT. All services are now restored. We apologize to everyone affected, and we will conduct a thorough follow up review to ensure this problem cannot recur in the future."
An email free day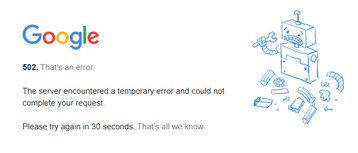 Other impacted services include Google Calendar, Google Sheets, Google Slides, Google Sites, Google Groups, Classic Hangouts, Google Chat, Google Meet, Google Vault, Currents, Google Forms, Google Cloud Search, Google Keep, Google Tasks, Google Voice, App Maker, Google Maps, Blogger, Google Sync for Mobile, and Classroom.
The cause of the outage, which began at around 11:50 UTC, is currently unknown. The ongoing issue appears to be global.
The issue follows several other Google outages this year, including two that took out Google Cloud this summer, followed by one in September that impacted Google's consumer services. In April, a separate outage knocked out its Cloud service and Nest devices, while a small network issue was once caused by cows.
This story is developing...