Google has finally launched its $1 billion Equiano cable which connects Western Europe to South Africa after it landed in Cape Town last month.
The submarine Internet cable is Africa's highest capacity cable and stretches 15,000km from Portugal to South Africa and features 12 fiber pairs and a design capacity of 150Tbps.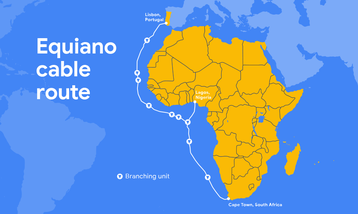 The cable, which has nine branching points, was initially announced in 2019 and is one of Google's largest submarine Internet cables according to Submarine Networks.
It runs along the western coast of Africa from Portugal and landed in Melkbosstrand, just north of Cape Town on August 8. Equiano is one of Google's six privately-owned cable systems either live or in development and the 19th subsea cable that the conglomerate has invested in overall.
Google forecasts that Equiano will lead to the creation of 1.6 million jobs, per a report commissioned by Google. The report also predicts that the cable will lead to data prices dropping between 16 and 21 percent in the region.
The cable is equipped with space-division multiplexing (SDM), new technology in submarine cables, which has also been added to Google's transatlantic Dunant cable, which connects France and the US.
There are several branching units along the way to Cape Town that connect other countries, including Namibia, and Togo, with plans for links to Nigeria, DR Congo, and the islands of Saint Helena.
Google has worked with Telkom Openserve as a landing partner for its undersea cable in South Africa, while Google teamed up with African ISP Paratus, WIOCC/OADC, and Namibia Telecom for the build-out of its subsea marine cable in Africa.
The cable is named after Olaudah Equiano, a Nigerian-born writer, and abolitionist who was enslaved as a boy and earned his freedom.
More in Cloud & Hyperscale