African telco Paratus has completed work on the cable landing station in Namibia for Google's upcoming Equiano cable. It is only the second submarine cable to land in the country.
Paratus announced that it had entered into an agreement with Google to be the landing partner for the Equiano cable in Namibia last February.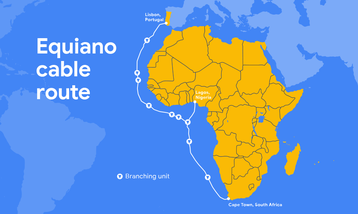 The company said the construction of the landing station was completed in June last year. The internal fit – including power, cabling cabinets, conduits, raceways, cages, and security – was completed in January 2022. The landing station is now ready to accommodate the cable, which is due to land in the second quarter of 2022.
"This cable provides a massive 20 times more network capacity than the previous cable. It also, importantly, provides an alternative service to Namibia and the rest of SADC, which in turn enhances redundancy to ensure network stability and vastly improved uptime," said Paratus Namibia MD, Andrew Hall. "This is great news for both businesses and consumers across the region and represents just one intervention in our overall growth strategy to provide quality connectivity services to Africa, unlimiting the potential of business and individuals on the continent."
The cable's landing station is also a meeting point for other operators and customers to collect and distribute their capacity. The Equiano cable is expected to be ready for service in the fourth quarter of 2022.
Paratus Group has two data centers in Angola and last year it completed its Zambian facility. 2021 also saw it announce plans to develop another data center in Namibia in the capital, Windhoek. Paratus Namibia also hosts its own Earth station.
Currently, only one cable lands in Namibia; Telecom Namibia landed the West Africa Cable System (WACS) in Swakopmund in 2011. Telecom Namibia became a shareholder in the SAT-3 submarine cable in 1999, but the SAT-3 doesn't have a landing point in Namibia, instead landing in neighboring Angola and South Africa.
Google announced its Equiano privately-funded submarine cable between Africa and Europe in 2019. The cable will link Portugal to South Africa, with branches planned in Nigeria, St. Helena, DR Congo, and Namibia. Other countries could join the cable in future.
It will be the first cable to land at St. Helena. The SAEx cable from South Africa to Brazil and the US was meant to land on the island, but its current status remains unclear after several years in development.
WIOCC is building the Equiano landing station for Nigeria in Lagos, and Liquid Telecom is building a landing station for the cable in DR Congo. In South Africa, the cable is landing at Telkom's Melkbosstrand Cable Landing Station north of Cape Town.