Beleaguered US video game reseller GameStop has hired an AWS engineering lead Matt Francis as its chief technology officer.
The company is currently the world's most volatile stock, after retail investors on the forum Reddit realized that buying shares in the company would force short sellers to buy back the stock to fulfill their obligations.
Prior to his year-long stint working on DocumentDB at AWS, Francis was the chief technology officer of real estate company Flyhomes.
He has also worked at e-commerce company Zulily, defunct wellness business Arivale, and B2B call analysis firm Marchex.
Francis & Co joining GameStop at an interesting time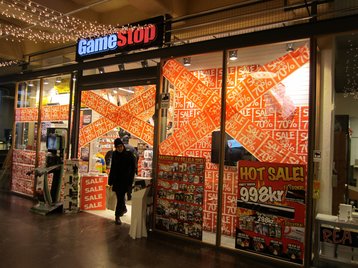 Francis, GameStop's first CTO, will be joined by Josh Krueger, another Amazon alumni. Now GameStop's VP of fulfillment, he previously held a similar role at Amazon. Also joining as SVP of customer care is Kelli Durkin, coming off of a job as Chewy's VP of Customer Service.
With the declining retailer one of the most shorted stocks on the market, short-sellers in recent weeks have been forced to buy a large number of stocks over a brief time period as Redditors send the stock upwards. The share price surged more than 1,700 percent and has since dropped and risen rapidly several times. Short-sellers are believed to have lost more than $20bn so far, but the chaotic trades led to the Securities and Exchange Commission saying it was monitoring the situation.
Prior to its recent meme-based share price surge, the company had been on a steady decline. GameStop has seen its revenue decline as gamers turned to Amazon for physical orders, and to console stores and Steam for digital purchases. Digital orders have also cut into another major revenue source for the company - trade-ins and resales.
A growing trend by video game publishers to offer a game for free, or at a low price, only to make money by selling products in-game has also left the retailer out of the loop.
Last October, it announced a multi-year deal with Microsoft to use Azure cloud services. As part of the partnership, Azure will stream video game and promotional content direct to customer and store associate mobile devices.
"Microsoft has always been a fantastic and innovative company for GameStop to collaborate with, both in the technology space as well as with their video game consoles and titles," said Jeff Donaldson, senior vice president of GameStop Technology Institute, at the time.
"We are continuing to work closely with them to discover and aggressively elevate ways to enhance the retail experience for our customers today and in the future."
Microsoft also offers cloud gaming over its Azure platform, with xCloud eventually planning to become its primary platform for selling video games.