With widespread cloud gaming adoption potentially on the horizon, two gaming giants are putting aside decades of rivalry to explore a partnership.
Sony and Microsoft said that they would work together on cloud gaming technology, served through Microsoft Azure - although PlayStation and Xbox game streaming services will remain separate.
I must be streaming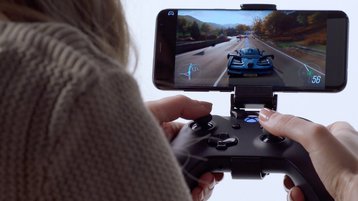 The videogames industry is defined by shifting rivalries: Sony's PlayStation only exists because the company was originally developing a CD-ROM System for Nintendo's SNES, but was very publicly snubbed at the last minute - leading to Sony doubling down on the technology and developing its own console.
Microsoft's Xbox, meanwhile, only exists because of fears that Sony would use the PlayStation as a way to take over the living room, and from there expand to rival Windows.
Fighting over a finite market, the competition between the companies has often been aggressive and overt: when Sony held a launch party for its PlayStation 3 on a barge on the River Seine, Microsoft hired a bigger boat to travel back and forth behind it with a banner promoting the Xbox 360.
But now, the two companies may be ready to set at least some of their differences to one side, as the market looks to change significantly, bringing in powerful new competitors.
Cloud gaming, the concept of allowing players to stream games from a data center rather than buying expensive consoles or PCs, is not new, but has yet to take off. The games industry, eying the way video streaming services like Netflix have ultimately grown to domination, believes that we are finally entering an era where the infrastructure is ready to support cloud gaming - and everybody wants to dominate that market.
Foremost among them is Google, which earlier this year announced Stadia, an ambitious game streaming service that hopes to piggyback off of YouTube's popularity with the streaming community (where gamers play titles locally, but broadcast it for others to watch), and will be powered by Google's enormous data center and fiber infrastructure.
Amazon, which owns its own games development studios, Twitch streaming and the world's largest cloud service, is heavily rumored to be developing its own service. There are smaller approaches - GPU-maker Nvidia offers GeForce Now, while French cloud gaming start-up Blade runs its Shadow service from Equinix data centers. Video game publisher Electronic Arts also announced its own upcoming streaming platform, Project Atlas, while Verizon is rumored to be developing its own service.
Then there's Microsoft, currently the only company with a vast cloud infrastructure and a storied gaming business, which last year detailed Project xCloud - a custom blade server that hosts the internal components of four Xbox One consoles, and associated infrastructure in its data centers. This is set to be expanded further when Microsoft launches its next games console in the next few years.
That left Sony at somewhat of a disadvantage. It is actually an early pioneer in cloud gaming, acquiring game streaming startup Gaikai for $380 million in 2012, and relaunching it as PlayStation Now. But without the significant data center infrastructure of its competitors, the platform (as well as the wider PlayStation Network) has been plagued by lag and downtime, suggesting the company would have struggled to provide a larger cloud gaming service on its own in the coming years.
Faced with every major cloud service planning to enter the gaming industry, Sony appears to have followed the axiom 'better the devil you know,' by turning to Microsoft.
The two companies signed a memorandum of understanding to 'explore joint development of future cloud solutions in Microsoft Azure to support their respective game and content-streaming services.'
Sony and Microsoft will also explore collaboration in the areas of semiconductors and AI, with potential joint development of new intelligent image sensor solutions that could be integrated with Azure AI technology for cloud and the edge. Microsoft will look into using Sony's semiconductors with Microsoft cloud technology, while Sony will consider using Microsoft AI in Sony consumer products.
"Sony has always been a leader in both entertainment and technology, and the collaboration we announced today builds on this history of innovation," Satya Nadella, CEO of Microsoft, said. "Our partnership brings the power of Azure and Azure AI to Sony to deliver new gaming and entertainment experiences for customers."