Amazon could be set to launch a cloud-based game streaming service as soon as next year, The Information reports.
The company is reportedly in talks with video game publishers about distributing games on its platform, according to two people briefed on the plans. In addition, The Verge discovered job listings for work on "Cloud Games," and another that discusses the "foundation of an unannounced AAA games business."
Because Jeff Bezos is a player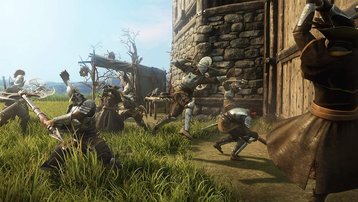 If the reports are true, Amazon would not be the first company to attempt to build a cloud gaming service, where players are able to stream demanding video games with minimal investment in hardware - something that requires extremely low latency to work well.
OnLive started in 2003 with the aim of delivering cloud gaming from five colocation data centers, but ultimately declared bankruptcy in 2015.
OnLive's assets were acquired by Sony, which also spent $380 million on rival platform Gaikai to build PlayStation Now, its own cloud gaming service. Last year, Google teased plans for a similar platform, while Microsoft announced it was working on xCloud, which would involve deploying Xbox-filled server racks across its many data centers.
GPU-maker Nvidia offers GeForce Now, while French cloud gaming start-up Blade runs its Shadow service from Equinix data centers. Video game publisher Electronic Arts also recently announced its own streaming platform, Project Atlas.
But while there are numerous companies hoping to become the 'Netflix of games,' Amazon has one clear asset that would help in its efforts - Amazon Web Services, the world's largest cloud company.
Amazon already has some presence in gaming, albeit not to the same extent as rival cloud company Microsoft. 2012 saw the launch of Amazon Games Studios with plans to develop its own titles, but so far, the division has mostly focused on mobile games that found limited success. This appears to be changing, with high budget titles on the horizon, including the massively multiplayer online game New World.
Amazon also has its own video game engine (the software environment used to develop games), called Amazon Lumberyard. Based on the architecture originally developed by Germany's Crytek, Lumberyard is free for developers to use - as long as online components are served through AWS. The company also launched an AWS-based set of APIs known as 'GameOn' for developers to add leaderboards, leagues and competitions to games that can include real-world prizes (that are, of course, provided and delivered by Amazon).
Another tool in Amazon's arsenal is Twitch, a platform for streaming game video for other people to watch, that it acquired back in 2015 for $970 million. Twitch's advertising page claims that "more than 15 million unique daily visitors each spend an average of 95 minutes daily watching live gaming," and more than "2.2 million creators share their games live on Twitch monthly, inspiring viewers to interact and discover new games along the way" - both of which are huge captive markets that Amazon could easily market a new streaming service to.
Already, the company offers 'free' games (played locally on your device) to Amazon Prime subscribers, under its Twitch Prime program.
The company also has a number of hardware products that could ship with a game streaming service pre-installed, such as its Fire TV, Fire Stick and Fire tablets; this approach has proved successful for its Prime Video streaming service.