Facebook's DeKalb data center is closer to becoming a reality after concerns from locals have been alleviated.
The 900,000 sq ft (84,300 sqm) data center will be based on a 505-acre property just south of Route 88 near DeKalb, Illinois, and local residents had concerns about how close part of the facility was to a nearby road, according to notes from a Planning and Zoning Commission meeting. As a result, a new 20ft (6m) berm (a barrier of soil) is planned to separate the facility and the road, acting as a barrier between the site and traffic.
DeKalb one of many data centers in Facebook plans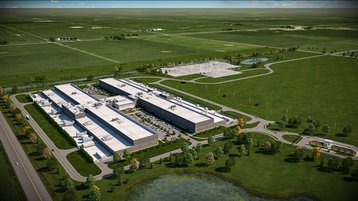 The $800 million DeKalb data center will be the social network giant's 12th facility in the US, with the first two buildings on the campus expected to be completed by 2022, with the possibility for five buildings in total.
Facebook says it will be run from 100 percent renewable energy via power purchase agreements. Once complete, it will use 80 percent less water than the average data center, and be LEED Gold certified.
In 2019 Illinois passed a huge data center tax exemption, pushed by the Illinois Chamber of Commerce, a private lobbyist group that lists Equinix as a member.
As well as investing in a number of its own data centers in the US and abroad, a new report from North American Data Center found Facebook was one of the biggest leasers of multi-tenant facilities in 2020.