Ericsson has set up a 5G site in Texas that is powered by solar energy.
The site in Plano, Texas, includes Ericson's Massive MIMO radio configuration, a RAN processor, solar panels, and lithium-ion batteries, plus a controller for hybrid energy operation and control.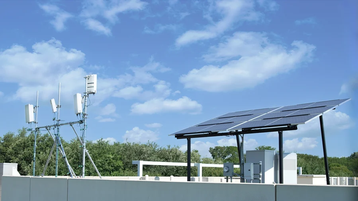 The site has the potential to be fully operated by solar energy, complemented by integrated Lithium-ion batteries, for up to 24 hours, said the vendor.
Ericsson notes that the site is a showcase of its latest hybrid energy management, which combines on-site solar and energy storage systems to integrate clean power and increased resiliency to portions of mobile networks at the greatest risk of grid outages.
"Mobile operators increasingly need to reduce the energy consumption and carbon emissions of their base stations without sacrificing network coverage or the quality of the user experience," said Ed Gubbins, principal analyst at Global Data.
"Ericsson's smart site solutions for hybrid energy sources are designed to help operators control costs and increase profitability – especially in rural or remote areas or private networks, where traffic volumes are lower and power consumption needs to be especially efficient. Using a variety of tools to increase energy efficiency and sustainability – including solar power, lithium-ion batteries, and advanced software features – can be helpful for improving operator profitability."
The site also features advanced capabilities such as load shifting and peak shaving. It also allows for demand response, which enables the site to "effectively utilize batteries when electricity rates are high and recharge the batteries when electricity rates are lower."
Ericsson said it hopes that the proof-of-concept can show operators that these solar sites will enable them to reduce OpEx related to energy costs and help reach Net Zero goals while enabling future revenue streams from utility companies.
"Operators can now utilize untapped assets, thanks to this technology, creating new energy cost savings opportunities," said Kevin Zvokel, senior vice president and head of networks, Ericsson North America.
A second phase of the project is being planned, added Ericsson, with this phase set to explore additional green energy sources as alternatives to diesel, such as hydrogen-based generators, while looking at interoperability with power grid vendors, optimizing local energy generation, and consumption to sell back to the grid with net metering.
Radio hardware and software solutions can also be trialed at the site, with the aim of improving energy efficiency in conjunction with smart-site solutions.
Last year Deutsche Telekom and Ericsson completed a trial in Germany showing cell towers can be powered with renewable energy generated on-site. The German telco and Swedish OEM conducted the trial at a live cell tower site in Germany where it was able to operate entirely from wind and solar energy generated by on-site panels and turbines.
Vodafone, Vantage Towers, Latvian telco LMT, and Telstra have also invested in on-site renewables at tower sites.
More in The Energy & Sustainability Channel