West African data center firm MainOne has opened a second data center in Lagos, Nigeria.
The company, recently acquired by Equinix, launched the Lekki II facility earlier this week.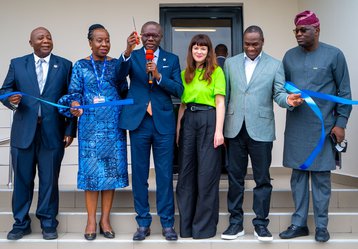 MainOne's data center subsidiary MDXi first announced the Lekki II facility in October 2021, saying it would be deployed on "a very aggressive timeline" and launch in Q1 2022. At full build-out, the Lekki campus will reach 10MW.
The opening ceremony was attended by Babajide Sanwo-Olu, Executive Governor of Lagos State as well as Equinix and MainOne executives.
MainOne CEO Funke Opeke said: "We are delighted to be expanding our Lekki Campus today to increase capacity in our region. Equinix recognizes that Lagos has the potential to become the digital infrastructure hub for Africa and… our plans include further expansion to the Lekki Campus to accommodate the requirements of global hyperscalers and regional businesses."
MDXi currently has more than 5MW of capacity across four facilities in Nigeria, Ghana, and Cote d'Ivoire totaling 64,000 square feet (5,950 sqm).
In May 2021, the company said it would increase the capacity of its data centers from around 700 racks to 900 racks over the next year, with an additional 300 racks by 2023 if demand is sustained.
Launched in 2010, MaineOne provides network and connectivity services across west Africa, and provides colocation through its MXDi brand. Equinix acquired the company in December 2021 for $320 million and expanding operations into the African continent for the first time.
The deal closed earlier this week. Equinix said the completion of the deal "augments Equinix's long-term strategy to become a leading African carrier-neutral digital infrastructure company."
"Equinix believes MainOne, headquartered in Lagos, to be one of the most exciting technology businesses to emerge from Africa, and Lagos is rapidly becoming a key connectivity hub for the wider West Africa region," it said.
Governor Sanwo-Olu said: "We can see that Equinix is now poised not only to be the biggest digital infrastructure player in Nigeria but in Africa, and we welcome Equinix to the heartbeat of the country, the Centre of Excellence, the largest economy in Africa and the technology transformation hub of Africa."
More in Colocation & Wholesale