EllaLink has announced a new subsea cable linking north and south Portugal.
The company this week announced a new domestic cable system between Sines and the Lisbon Metro Area. The new 4.3 Petabits cable will be known as the Olisipo system and is expected to go live in 2024.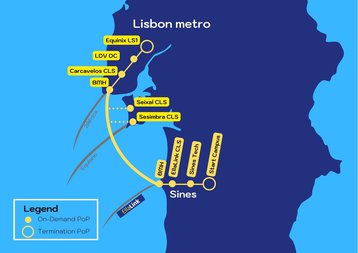 Incorporating 288 fibers, the unrepeated 110km fully buried cable will have an impressive total design capacity of 4.3 Petabits. It will land in Carcavelos and Sines and will be ready to branch into Seixal & Sesimbra cable landing stations and connect the Setubal area.
The Olisipo system will provide direct POP to POP connectivity at fiber pair level between a number of data centers located in Sines and Lisbon Metro Area, connecting the Start Campus in Sines and the Altice LDV and Equinix LS1 facilities in Lisbon.
"The Olisipo sustains EllaLink's vision in having Sines as one of the most important interconnection Hubs in Iberia, extending our cable from EllaLink Vasco da Gama CLS in Sines to the Lisbon Metro Area," said Philippe Dumont, CEO at EllaLink. "The symbiotic relationship between submarine cable systems and data centers is at the heart of how these businesses thrive and survive. Connecting and transporting traffic between Brazil and Portugal, onwards across Europe, and ultimately across the globe is the primary role of the EllaLink cable system and the data centers it connects to. Sines and Lisbon together will be able to compete with major European Hubs as both cities are being seen as a preferable gateway to Europe already."
The original EllaLink cable was lain between late 2020 and 2021, and runs from Fortaleza in Brazil via Cabo Verde and Madeira to Sines in Portugal. The 5,900 km cable offers around 100 Tbps across four fiber pairs.
Islalink's Ionian system due live before 2023
Elsewhere in Europe, Islalink has announced its new subsea cable connecting Italy with Greece will be ready for service by the end of 2022.
The Ionian system will connect Crotone, Italy, with Preveza, Greece. While Greets has a number of subsea cable systems, most land to islands such as Corfu or Crete, while the Minoas East & West and MedNautilus systems land on the south coast. This will be the first cable connecting mainland Greece with Italy since the Italy-Greece 1 system from 1995.
The Fiera Infrastructure-owned company currently operates cable systems connecting the Balearic Islands, the Canary Islands, Morocco, and Algeria. It also offers colocation out of its Mallorca and Valencia cable landing stations.
Esther Garcés, CEO of Islalink, told Capacity: "As with previous projects, Ionian consolidates demand on an underserved route to provide wholesale services based on neutrality and openness. We are leveraging on Islalink's experience in the development of submarine cables and in the provision of top-notch services, tailored to meet the needs of very large customers. It is a natural step forward in the strategy of Islalink."
The cable has already been manufactured and is stored in a depot in Catania, on the east coast of Sicily, until it is deployed in November.
Garcés said that all the permits have been obtained and the cable landing stations, land ducts, and terrestrial backbone transmission are being built and deployed and set to be ready to go live by the end of this year.